LaWanda G. Saddler Retires after Thirty-One Years of 'Heart' Work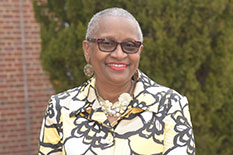 Since her arrival in 1990, LaWanda G. Saddler has been a driving force in the University of Maryland community. Through her leadership and/or involvement in programs, activities, organizations, and other efforts, LaWanda has championed diversity in the Clark School of Engineering, around campus, in the local community, and nationally. There has been no assignment too little, too big, or too hard for her to tackle. If it involved increasing the participation and success of underrepresented students in engineering and other STEM majors/careers, she was onboard.
Over the years she has touched thousands of pre-college students through programs such as the Minority Scholars Summer Program, the College Preparation Intervention Program that supported GEAR UP students at Walker Mill Middle School and Central and Potomac High Schools in Prince George's County, the Southern Maryland Engineering Day Program, and the Quest Program at Eleanor Roosevelt High School in Prince George's County. When parents requested programs for younger students at the elementary and middle school level, she responded by creating Lego Robotics and SeaPerch. When an Assistant Professor in Materials Science and Engineering wanted to create the ESTEEM Research Mentoring program for rising high school students interested in engineering careers, she played a critical role in making that happen and continued the program even after the Assistant Professor left the university. When the Dean initiated a partnership with a pre-college program in Puerto Rico, she became an active member of the team that created SER-Quest, a four-week residential program for rising 12th graders from Puerto Rico. As Co-PI of the Maryland College Preparation Intervention Program (CPIP) grant for College Park from 2003–2011, she generated $1M in revenue for the campus providing support for staff, graduate, and undergraduate students as well as the pre-college program participants.
LaWanda supports undergraduate students in a myriad of ways. She served as advisor to the Bridge to Creativity student organization whose mission was to engage children in Sierra Leone and other African countries in STEM activities. She has been the advisor to the UMD chapter of the Society of Hispanic Professional Engineers since arriving on campus in 1990. She developed and managed a tutorial program to support students enrolled in lower level engineering science courses. She manages a number of scholarship programs for CMSE, including the Maryland Space Grant Consortium scholarship. In 2012, she joined the CMSE Director and a select group of alumni in establishing the James N. Newton Endowed Scholarship to recognize the recently retired former director of CMSE and support engineering students.
In 2006, she created the highly successful Winter Student Leadership Retreat, a weekend-long experience that provides underrepresented undergraduate students the opportunity to develop leadership and professional skills through workshops and interactions with private and public employers. More than 700 Maryland and other students from the DMV area have benefitted from this experience. Since this is a self-supporting program, she has also raised more than $300,000 over the past fifteen years to fund it.
In addition to her work with students, she keeps alumni engaged with CMSE through social media, programs, volunteer opportunities, and get-togethers (which were held virtually during the COVID-19 pandemic).
LaWanda Saddler has been tireless in her commitment to increase the participation of underrepresented minority students in engineering and other STEM majors. The Clark School sends her our sincerest congratlations and best wishes for a healthy, long, and happy retirement.
Published July 14, 2022