Students Assist Sierra Leone School…Virtually!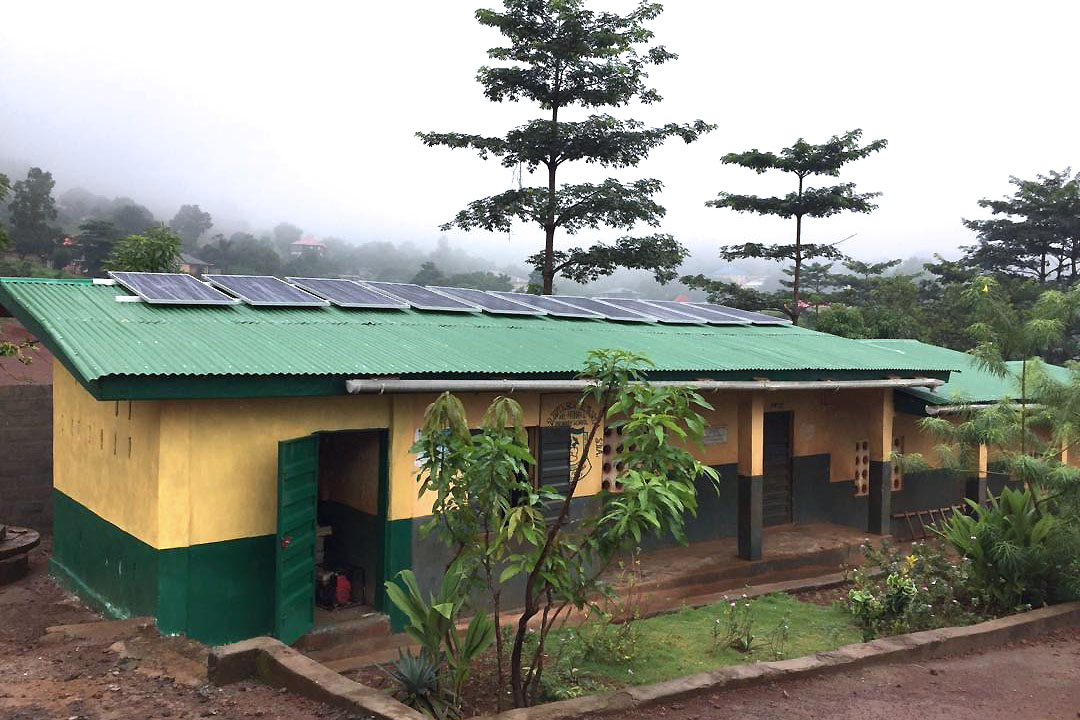 In a normal year, student volunteers with Maryland Sustainability Engineering (MDSE) would have traveled to Sierra Leone to help with a school renovation project. A sister organization of Engineers Without Borders, MDSE has ongoing projects two countries abroad—Sierra Leone and Tanzania—as well as in Maryland.
But 2020 wasn't a normal year, by any stretch.
With travel ruled out because of the COVID-19 pandemic, the students knew they wouldn't be climbing any roofs or putting in solar panels, as originally planned. That didn't mean there was nothing left for them to do, however: not all the essential tasks of a project involve being on site.
In any engineering project, sound project management is a prerequisite for success. And that was an area where the team could contribute, even from far away.
"We became consultants," explains Samantha Falco, the Sierra Leone team lead. "We put together the project outline. We ran calculations for how much power they had, and how much they need given the loads for the school. We set the overall guidelines for contractor proposals, and added some deliverables related to a warranty and removal of the existing system, and what should be done with the existing hardware. We covered everything that the system should do."
With the project outline and budget in hand, the school principal and other members of the community identified local contractors who could carry out the work. After the contractors submitted their proposals, Falco and her team reviewed them and ensured that all deliverables were being covered.
The role of consultant required the students to draw from their engineering knowledge—perhaps even more so than in a hands-on situation, Falco said. After all, the project outcomes depended on their recommendations. They had to understand every facet of the project in order to provide sound guidance.
In addition, she said, the experience taught them essential project management and communication skills. "No one on our project had written looked at a contract before. None of us really knew what was important to talk about before agreeing to hire someone to implement a project. We had to look at some of our parents' home remodeling contracts and use these to produce something that was representative of what we needed to get done."
"Also, because the project went through many revisions, we had to be able to communicate effectively with the principal, the school staff, and the contractors, especially since we weren't going to be there in person," she said.
The team's faculty advisor, UMD mechanical engineering professor Jungho Kim, assisted with the contractual work, checking the numbers for accuracy and guiding the students through the process.
"The Sierra Leone team did a wonderful job verifying and validating the vendor proposals on their technical, economic, and management aspects," he said. "They then guided the implementation and construction of the new solar array, completing the project in a timely and satisfactory manner for all."
"The students learned that significant progress could be made even under the restrictions we have been under," Kim said.
Now that the team has shown that remote implementations of this kind can be accomplished successfully, it plans to continue with further renovation projects at the school—including a handwashing station that will help protect students from COVID. Also in the hopper is a metering station for the newly-implemented solar array, enabling the community to keep better track of the power being used. In the future, EWB hopes it will once again be able to send students to Sierra Leone to participate in hands-on engineering work, as before.
For now, though, they appreciate simply being able to help.
Published January 20, 2021