Rebois Named Truman Scholar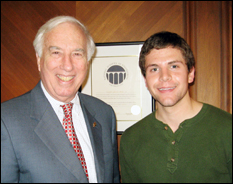 Dylan Rebois
, a junior mechanical engineering major at the Clark School, has been named one of this year's Truman Scholars by the Harry S. Truman Scholarship Foundation. Rebois is one of 60 students so honored across the country.
Truman Scholars are chosen by a selection panel, which typically includes a university president, a federal judge, a distinguished public servant and a past Truman Scholar. The $30,000 merit-based scholarship is presented each year to college juniors, from across the country, who have demonstrated outstanding leadership and wish to attend graduate school in preparation for careers in government or public service.
Rebois is an Honors College member, participated in the Gemstone Program and is a Banneker-Key Scholar. He is the second mechanical engineering student in a row to win this honor. Phil Hannam also was a Truman Scholar in 2008.
Rebois has a 4.0 GPA. For Engineers Without Borders he served as design lead in Burkina Faso and project lead in Ethiopia. His interest and leadership in sustainability is reflected through his membership in the Student Sustainability Committee, appointment to the Student Subcommittee of the University Sustainability Council, and participation in the University Climate Action Plan Workgroup. He is conducting research with Prof. Christopher Cadou on micro-combustion visualization. Rebois also is a teaching fellow with the Clark School's Keystone Program.
For more about the Truman Scholars Program: http://truman.gov/news/2010-news-archive/2010-scholars-announced
Published March 30, 2010