Protecting Nuclear Plants from Cyber Attacks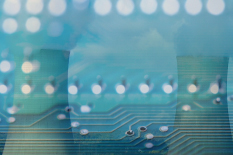 The Clark School will host a professional workshop on cybersecurity, May 4-5, 2011, that focuses on the critical infrastructure and the commercial nuclear power industry. Academic leaders at the university together with individuals from the Nuclear Regulatory Commission (NRC), the commercial nuclear power industry, and other research institutions will explore new regulatory and industry-led initiatives to protect nuclear power plants from cyber-based threats.
The purpose of the Commercial Nuclear Power Cybersecurity conference is to provide:
1. An overview of regulatory and programmatic cybersecurity models designed by the NRC and representatives of the commercial nuclear power industry to address today's cyber threats to critical industrial control and process automation systems; and,
2. Highlight the latest efforts underway to protect critical systems in use at nuclear power plants from cyber attacks.
"Taking on big issues through collaborative efforts between industry, government agencies and the university is just what we expected the new Maryland Cybersecurity Center (MC2) would accomplish," says Prof. Patrick O'Shea, co-director of MC2 and Chair of the Department of Electrical and Computer Engineering at the University of Maryland's A. James Clark School of Engineering. "When representatives from the NRC came to us for help in framing the discussion and providing an open forum for problem-solving, we knew MC2 could play an important role. We are inviting technical experts as well as policy makers for the federal government and the State of Maryland to engage on this critical issue."
The conference will be held at the University of Maryland Samuel Riggs IV Alumni Center and will feature content on effective security planning, risk management, cross-sector cyber protection, industrial control system security, security program effectiveness and metrics, as well as current threat briefings and inspection protocols.
"We will look closely at the cybersecurity guides and standards published by the NRC and the nuclear industry," says George Simonds, director of cybersecurity and infrastructure protection programs at MAR Incorporated, and senior consultant to the NRC Office of Nuclear Security and Incident Response. "How do we successfully build these performance-based cybersecurity programs, and what are the academic options available to help government and industry meet near and long-term cyber challenges? These are the questions that brought us to Maryland and the Cybersecurity Center."
To learn more about the Commercial Nuclear Power Cybersecurity Conference and to register online, visit www.advancedengineering.umd.edu/ncsc or www.cyber.umd.edu. In addition to the conference program, a technical exhibition will be held on-site for the duration of the event.
Published February 22, 2011