FCC Commissioner Geoffrey Starks visits UMD 5G Secure Test Bed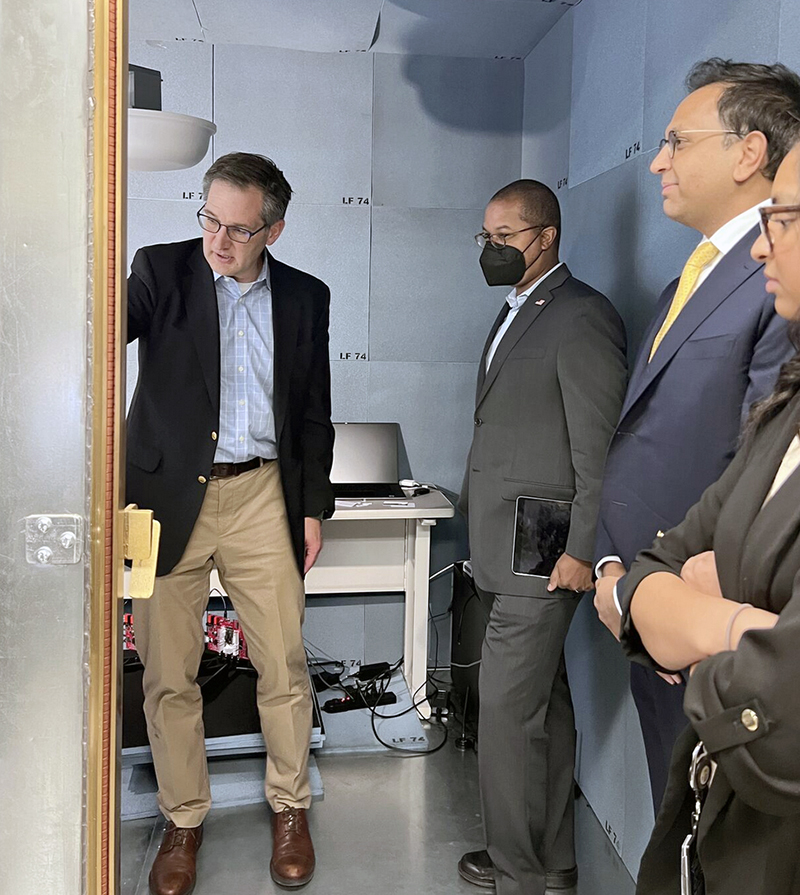 Federal Communications Commission (FCC) Commissioner Geoffrey Starks visited the 5G Secure Test Bed housed at the University of Maryland on Dec. 1, 2022. He was the second FCC Commissioner to attend a meeting hosted by CTIA, the Cellular Telecommunications and Internet Association. The session included a CTIA presentation on 5G security, followed by a tour of the test bed and a demonstration of its capabilities by ISR Visiting Research Engineer Wayne Phoel and researcher Daniel Ndiki. Commissioner Nathan Simington visited campus for a similar meeting on Oct. 20, 2022.
Along with Starks, the event's participants included additional FCC personnel and six representatives from CTIA, including Scott Bergmann, Senior Vice President, Regulatory Affairs. Also in attendance were wireless industry representatives.
Starks is one of four current FCC Commissioners. The FCC is an independent U.S. government agency overseen by Congress. It is the federal agency responsible for implementing and enforcing America's communications law and regulations.
The 5G Secure Test Bed is dedicated to commercial 5G networks. It was launched in January 2022, and is one of several similar CTIA test beds in locations around the country. The UMD location leverages personnel with extensive experience in wireless security.
"At the University of Maryland, we pride ourselves on training the next generation of engineering leaders and conducting research that advances network and device performance and security," said ISR Visiting Research Engineer Wayne Phoel. "This industry collaboration greatly enhances our ability to meet those objectives."
| Learn more about the 5G Secure Test Bed |
Published December 1, 2022