Matysiak Joins BioE Faculty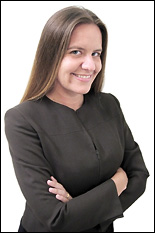 The Fischell Department of Bioengineering (BioE) and the A. James Clark School of Engineering are pleased to welcome their newest full-time faculty member, Assistant Professor Silvina Matysiak, who will begin her appointment in October 2010.
Matysiak was awarded a diploma in chemical engineering from the Instituto Tecnologico de Buenos Aires, Argentina in 2001, and received her Ph.D. in chemistry from Rice University in 2007. Before joining the University of Maryland, she was a postdoctoral fellow at the University of Texas at Austin in the department of Chemistry and Biochemistry and at the Institute of Computational Sciences and Engineering. She serves as a reviewer for a variety of journals including Physical Review Letters, was a fellow at the Institute for Pure and Applied Mathematics at UCLA, and has been a visiting scientist at the Max-Planck Institute for Polymer Research and the Manufacturing Research Center at the Georgia Institute of Technology.
Matysiak's primary area of interest is in the characterization of protein dynamics and function at the molecular level. Her work includes using computer simulations to study the mechanisms of protein folding and misfolding associated with Alzheimer's and Parkinson's diseases, protein assembly in biomedically relevant systems, and how solvent organization affects cooperative transitions in biomolecular systems. Her work has appeared in the Proceedings of the National Academy of Sciences.
At the Clark School, she plans to develop new multi-scale simulation techniques and models to characterize biomolecular systems at multiple time and length scales. She also plans to study the allosteric regulation of proteins, which is crucial in drug design, and molecular recognition events associated with neurodegenerative diseases.
"I chose to come to the Fischell Department of Bioengineering because of its people," she says of her decision to join the faculty. "When I visited, I felt [it was] a very friendly and collegial environment, and I was highly impressed by the quality of the student body. I also felt that my work would nicely complement that of other faculty members, and that I would have all the necessary resources to perform my research."
Learn More:
Visit Professor Matysiak's homepage »
Published August 30, 2010