Lockheed Martin Partnership Suite Opens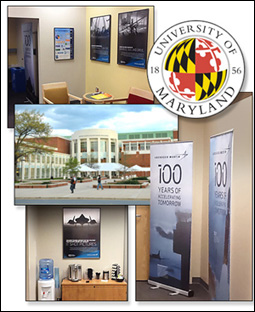 The Lockheed Martin Partnership Suite has opened on the second floor of the Jeong H. Kim Engineering Building (Room 2203).
The suite, which includes a sitting area, two offices and a conference room that can seat 10, is an offshoot of the strategic relationship between Lockheed Martin and UMD. Lockheed Martin employees visiting campus are encouraged to use the suite to hold meetings and host recruitment events.
The space has been branded with Lockheed Martin ads, displays and videos as well as posters depicting the company's involvement with UMD over the past six decades.
There are several other parts of the Clark School that connect UMD with Lockheed Martin, including Glenn L. Martin Hall, the Glenn L. Martin Wind Tunnel and the Lockheed Martin Lounge (also on the second floor of the Kim Building). A bronze bust of Glenn L. Martin is housed in the main lobby of Martin Hall. A plaque in honor of Glenn L. Martin is installed in the Innovation Hall of Fame in the Kim Building.
Published June 6, 2012