A New Space for Networking: The Juniper Networks Laboratory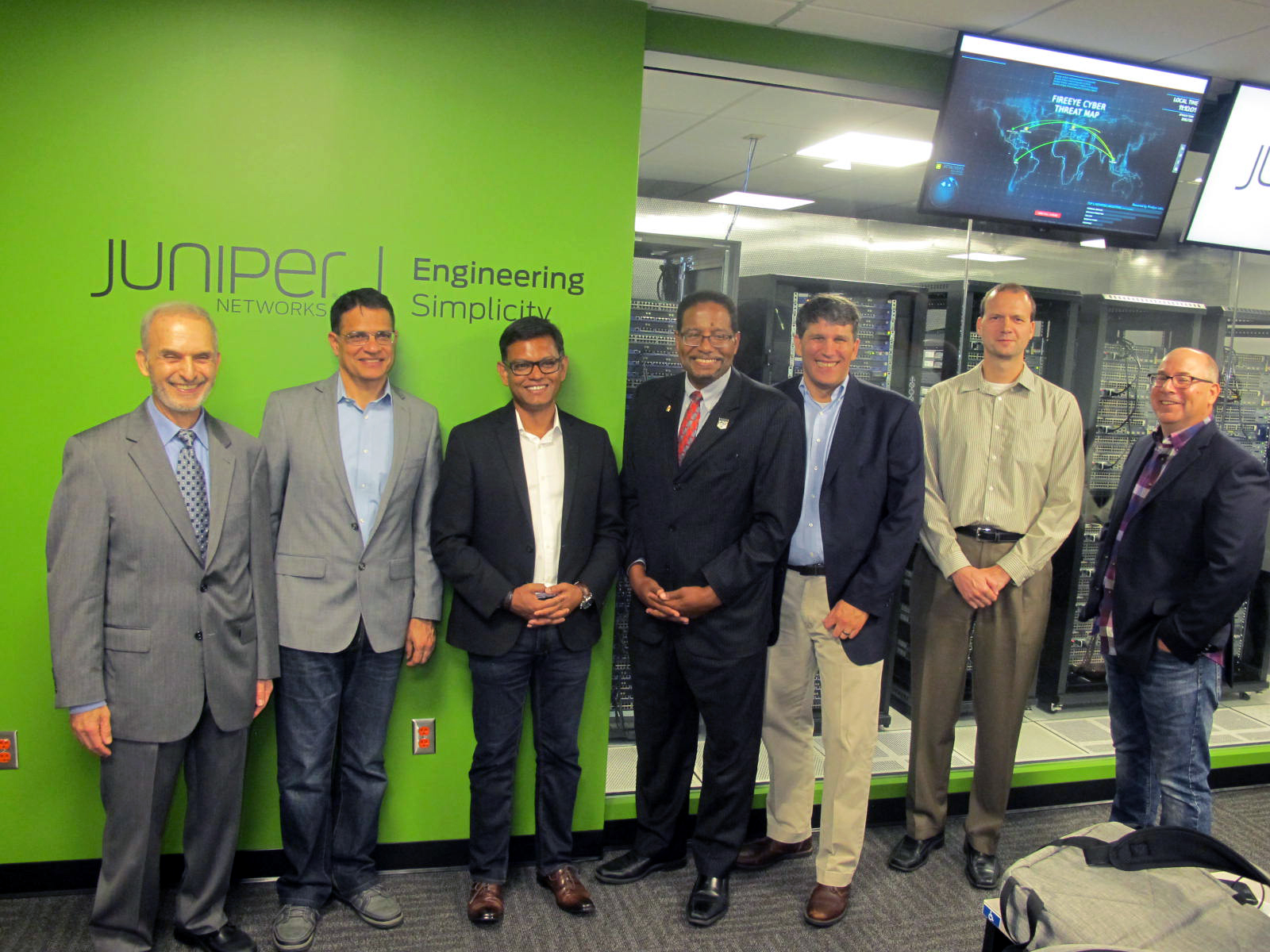 Students, faculty, and staff at the University of Maryland have a new addition to the A.V. Williams Building of the A. James Clark School of Engineering—The Juniper Networks Laboratory.
An official ribbon-cutting ceremony was held Wednesday to celebrate the completion of the lab, thanks to a generous gift and a growing partnership with Juniper Networks, one of the leading networking companies headquartered in Sunnyvale, California.
The lab will support both undergraduate and graduate programs in the Department of Electrical and Computer Engineering (ECE). Course topics will incorporate networking, including virtualization and design, and machine learning. Courses taught in the lab will be senior-level capstone design courses in ECE's undergraduate program and several classes within ECE's Master's in Telecommunications (ENTS) Program.
The 1,000-square-foot lab is designed for students and faculty members to be able to build, configure, and test computer networks using Juniper networking devices. It features 84 EX access switches, 56 SRX-240 routers/security devices, 30 MX5 routers and five servers. The lab houses its own networking environment, which is isolated from UMD's production network. This arrangement allows students to experiment safely and freely without affecting the network operations in the outside world. Using this new infrastructure, students will be able to gain hands-on experience interacting with the Junos operating system and learn how to configure and test various routing protocols, virtual LANs, firewalls and routing policies. Advanced courses will provide rich opportunities to explore state-of-the-art topics such as software-defined networking, network automation, and network virtualization.
The investment from Juniper included funds for the construction of the redesigned networking lab space, state-of-the-art Juniper equipment, and an endowment to secure maintenance for the lab into the future.
"The new lab will create an exceptional environment for our undergraduate and graduate students to learn and experiment with the latest technologies in network design and automation, network virtualization, data center operations and management, and big-data analytics," said Professor Joseph JaJa, chairman of the ECE Department. "It is a truly unique resource that will substantially enhance the learning experience of our students."
The ECE Department has a long and rich history with Juniper Networks. The ENTS Program has been a member of the Juniper Networks Academic Alliance since 2012, and Juniper Networks has made several donations of equipment to the program in years past. Juniper is also a top employer of ECE and ENTS graduates, interns, and alumni. ECE Ph.D. alumnus and Executive Vice President and Chief Technology Officer (CTO) of Juniper Networks, Bikash Koley, was instrumental in securing the donation for this lab.
"We are thrilled to partner with the University of Maryland to open The Juniper Networks Laboratory," Koley said. "Networking in the cloud era requires highly skilled people, and yet a pressing shortage of skilled technologists is likely to increase in the next few years. IDC believes that this skills shortage continues to inhibit many enterprises from successfully adopting and deploying transformative network technologies. It is our responsibility to prepare the next generation of technologists, and this lab is one tangible way we are investing in the future."
As CTO, Koley steers Juniper's technology strategy and leads and executes the company's critical technology innovations. He is an industry-leading expert in software-defined networking (SDN), intent-driven networking, packet-optical integration, warehouse-scale computing and large-scale data center interconnection.
Koley joined Juniper from Google in 2017, where he was a Distinguished Engineer and the Head of Network Architecture, Engineering and Planning. Prior to Google, Koley was the CTO of Qstreams Networks, a company he co-founded. He also spent several years at Ciena Corporation in various technical roles developing DWDM and Ethernet technologies. Koley received his M.S. and Ph.D. degrees from the University of Maryland in 1997 and 2000, respectively. In fall 2019, Koley will become a member of the Clark School's Board of Visitors, the lay-leader governing body of the A. James Clark School of Engineering.
Following the ceremony, a roundtable discussion was held on "Skilling for the Future." The discussion focused on the increase in university and government investment in STEM-focused education as more in-demand jobs open in STEM fields. Panelists included JaJa and Koley, as well as Leidos Civil Group CTO and UMD alumnus Tony Gehr, Davina Pruitt-Mentle, Head of the National Initiative for Cybersecurity Education, and Jeanita Pritchett, Academic Program Manager of the International and Academic Affairs Office, both from the National Institute of Standards and Technology (NIST). The panelists explored areas on STEM jobs vs. public service jobs, the future of programming, and how to prepare.
Published September 27, 2019