Gupta Wins HHMI Fellowship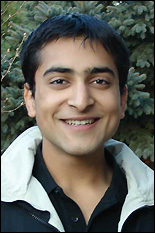 Department of Chemical and Biomolecular Engineering sophomore Apoorv Gupta has been awarded a Howard Hughes Medical Institute (HHMI) Undergraduate Research Fellowship for his proposed study of a form of intercellular communication known as quorum sensing. Gupta, who double-majors in cell biology and genetics, is advised by Fischell Department of Bioengineering Professor and Chair William Bentley, and conducts his work in Bentley's Biomolecular & Metabolic Engineering Laboratories.
The competitive HHMI Fellowship program, sponsored by the Howard Hughes Medical Institute and the University of Maryland's College of Chemical & Life Sciences, supports the research activities of undergraduates working under the direction of a faculty mentor. The program's goal is to give talented students the opportunity to immerse themselves in the investigative process, increase their aptitude for research, collaborate directly with faculty, and strengthen their dedication to a career in medical, biological or life sciences.
"The HHMI Fellowship is going to allow me to gain experience in conducting an independent research project in a professional setting and apply the knowledge I'm learning," says Gupta. "It will also give me a genuine glimpse into the life of a researcher."
Gupta is part of Bentley's ongoing research on quorum sensing, a cell-to-cell communication process that allows groups of single celled bacteria to act as multicellular entities, in some cases allowing them to become pathogenic. It has also been shown to affect bioluminescence and biofilm formation. A signaling molecule emitted by single celled bacteria, known as autoinducer-2 (AI-2), is believed to be the key facilitator of quorum sensing.
Gupta will use microarray analysis to study the effect of AI-2 on gene expression in human intestinal cells in order to understand the interactions between bacteria and their hosts. After the analysis is complete, he plans to use genetic engineering to create an AI-2 inducible mammalian cell line, which would express a special reporter gene when AI-2 is present. Monitoring these special cells will allow Gupta to track and analyze quorum sensing activity.
"We are very eager to see the results of this project, because it may lead us in a new direction for researching bacterial-host interactions," Gupta says of the work. "It may highlight the natural defense mechanisms used by hosts to fight pathogens, which is important to thoroughly understand as more bacteria become resistant to antibiotics. What we learn from this could eventually help us design new types of antibiotics that rely on disrupting bacterial quorum sensing, instead of simply trying to kill the bacteria. The mammalian cell line we develop could also be a valuable tool in further studies of inter-kingdom signaling, such as those using a microfabricated device."
The HHMI Fellowship application process is based on the submission of a formal grant proposal. Fellows are selected based on the quality of their proposals, including the feasibility of the suggested study, clarity, academic preparation, and the potential impact of the work on the students' career development. Fellows are supported for up to one year, including summer research, and are provided with both a stipend of up to $5000 and funds of up to $1500 for the supplies and equipment required for their projects.
For More Information:
Visit the Biomolecular & Metabolic Engineering Laboratories web site »
Visit the Maryland Biochip Collaborative web site »
Learn more about the HHMI Fellowship Program »
Published February 22, 2010