Engineering Sustainable Solutions…Globally!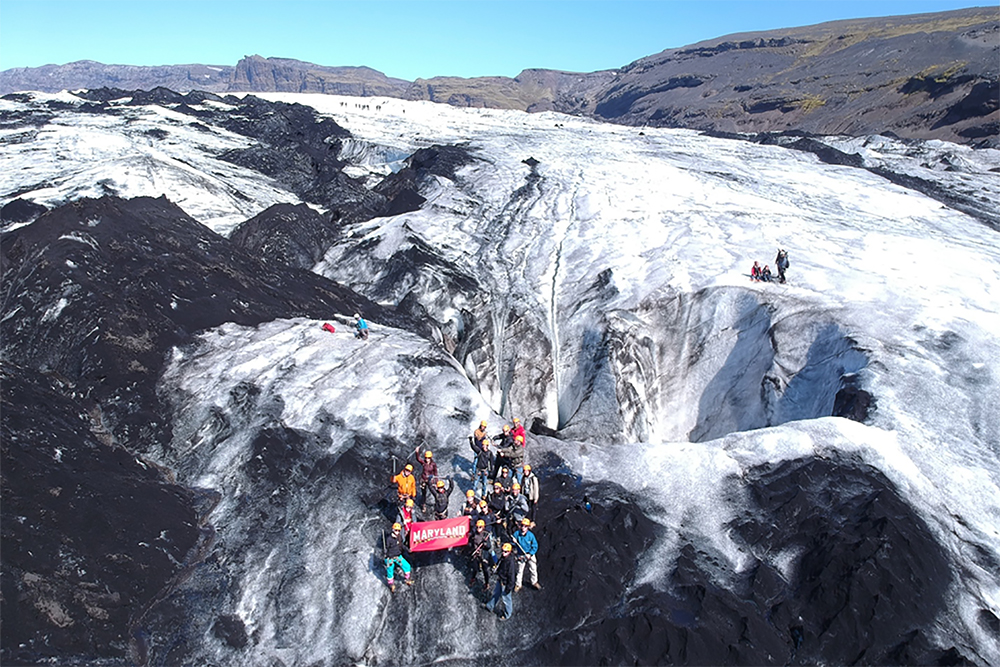 It was an opportunity to experience another part of the world—and build expertise about engineering solutions that could be crucial to our planet's future.
Just after spring semester classes wrapped up at UMD, a group of students traveled to Rejkjavik, capital of Iceland, to begin their summer studies under the guidance of civil and environmental engineering faculty member Natasha Andrade and Michael Galczynski, an instructor in the Clark School's Keystone program. They would spend the next two weeks based in Rejkjavik, with day trips to a variety of other locations.
Why Iceland? The small, northerly island country holds particular significance for those with an interest in renewable energy: except for small diesel generators used to power fishing boats, Iceland meets all its energy needs through renewables—particularly thermal and hydroelectric.
"Iceland makes very good use of its resources," Andrade explained. "They don't have coal or oil, so they use what they have—which is water and geothermal energy. Seventy-five percent of Iceland's electricity comes from hydroelectric power plants, and the rest comes from geothermal power plants. About 98% of its heat comes from geothermal power plants."
During their stay, students conducted in-depth research on Iceland's past, present, and future energy needs, and they capped off the program by coming up with designs for hydropower and geothermal power plants in specific locations around the country. These were not rough concepts, Andrade said, but detailed proposals that required the students to delve deeply into the technical aspects of plant design.
And they did so with the larger issue—sustainability—in mind. "If we are aiming to achieve sustainable development, then we have to be looking at renewables," Andrade said. "But the solutions are not always simple. Hydropower, for example, can have an impact on ecosystems, as well as on people living in the areas that need to be flooded in order to build the dams. Sustainability has three pillars—environmental, economic, and social—and all three need to be considered."
All in all, the Iceland experience "was everything I wanted: hands-on research in sustainable power, plus the most stunning landscapes and natural features I've ever seen," said Sam "S.C." Giedzinski, a junior studying mechanical engineering.
He added: "Icelanders have a deep understanding of comfort foods, so our meals were fantastic!"
Studying sustainable infrastructure in Catania, Italy
While Andrade and her students were exploring energy sustainability in Iceland, another summer program—led by civil and environmental engineering associate professor Dimitrios Goulias—was heading southwards, to Catania, Italy. Sustainability was the overarching theme for their program as well, but with a different focus: rather than designing plants, they were examining infrastructure—buildings, roadways, or entire communities—with an eye to introducing sustainable practices.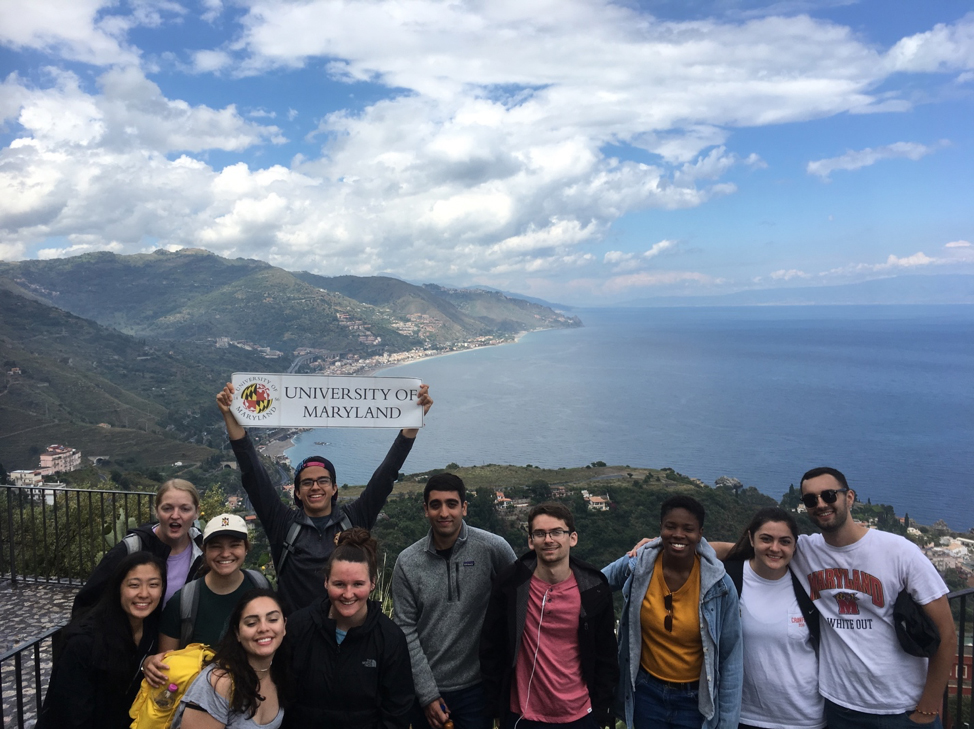 Take roadways, for example. "Roads have to be maintained and repaved, but there are options for doing this in a more environmentally-friendly manner," notes Goulias. "You can recycle the entire roadway, taking the asphalt layer, rejuvenating it with new materials, then putting it back in place. It's possible to make use of glass or even the rubber from recycled tires. However, we have to consider not only the technical side of the problem, but also the costs and benefits."
Goulias's students began with a set of sustainability metrics, drew up ideas that could be applied to infrastructure in and around Catania, and then analyzed the results. The program, offered in collaboration with the University of Catania's department of civil engineering and architecture, also included several technical and cultural site visits.
"We held workshops prior to the trip so that they could learn about the principles, tools, and metrics before they arrived in Catania," Goulias said. "Once there, they worked together with students from the University of Catania to study particular situations—buildings or roads, for instance—and look at sustainable alternatives. They then drew up presentations in which they showed how their alternatives compare to conventional methods, as well as to other sustainable solutions."
"In this way, they not only developed their understanding of the specific engineering solutions, but also of the wider range of issues involved."
Program participants lauded the blend of engineering collaboration and cultural immersion.
"We got to learn so much about Italian culture. We completed and presented a project on sustainability with civil engineering students from Sicily, and I made friends for life," said Andrew Legaluppi, a civil engineering major and vice-president of UMD's ASCE student chapter.
Nathan Collahuazo said "studying in Catania alongside Italian engineering students was unforgettable, and exploring the city and immersing ourselves into the culture and cuisine helped to create an enriching experience overall." For Abby Bollinger, the program was "a truly enlightening experience…I was able to witness a different culture and gain confidence in myself by stepping out of my comfort zone."
Summer study abroad programs are offered each year by multiple departments within the A. James Clark School of Engineering, in co-ordination with Education Abroad and the Office of Global Engineering Leadership. Scholarships are available to eligible students both through the Clark School and individual departments.
Photos by Sam "S.C." Giedzinski and Dimitrios Goulias
Published August 15, 2019