Engineering at Maryland magazine celebrates 40 Years of the Center for Minorities in Science and Engineering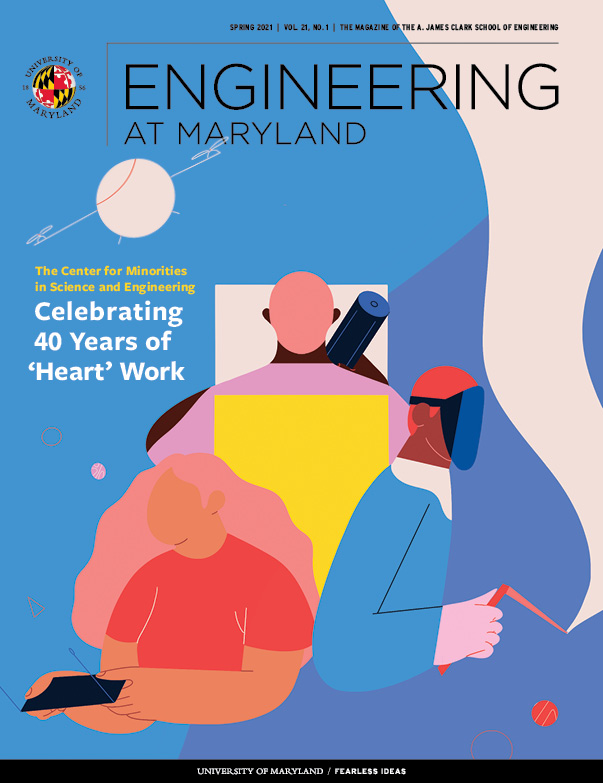 To create a culture in which all students, regardless of how they look or where they come from, have access to the resources and opportunities they need to succeed.
For four decades, that's been the charge of the Center for Minorities in Science and Engineering—and one of the critical reasons for the Clark School's success. The center, featured in the Spring 2021 issue of Engineering at Maryland magazine, helps recruit, retain, develop, and graduate underrepresented students, and to make our field better reflect the public it serves.
The lead story, "Celebrating 40 Years of 'Heart' Work," celebrates the efforts and experiences of students, alumni, faculty, and staff doing their part to grow and maintain a diverse and inclusive environment. Together with the Center for Minorities in Science and Engineering, these Clark School community members work to address the systemic challenge of the dramatic underrepresentation of Black, Latinx, and American Indian students in engineering.
The Spring 2021 cover and feature story are illustrated by California-based motion graphics designer and illustrator D'Ara Nazaryan. She received her BFA from Otis College of Art and Design and has collaborated with some of the industry's top directors and studios.
Engineering at Maryland is published twice a year for alumni and friends of the A. James Clark School of Engineering at the University of Maryland. Digital copies are published on the Clark School's website for sustainability purposes and to encourage online readership.
Published May 10, 2021