Clark School Honors Distinguished Members of Engineering Community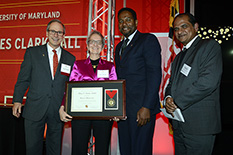 The University of Maryland A. James Clark School of Engineering announced the new class of recipients for the Glenn L. Martin Medal and Early Career Award. Both of these prestigious awards are presented annually to honor Clark School alumni and friends for their outstanding work in the engineering field.
This year, the A. James Clark School of Engineering proudly recognizes Robert D. Briskman, William R. Calhoun, Jr., Nancy Margolis, and Richard L. Vogel, Jr., as recipients of the Glenn L. Martin Medal. As the Clark School's highest honor, the Glenn L. Martin Medal is bestowed upon those who have made significant contributions to the mission and ideals of the A. James Clark School of Engineering and who reflect the pioneering spirit of aviation innovator Glenn L. Martin. Specifically, awardees are chosen based on community service, contributions to the theory and practice of engineering, and noteworthy leadership and accomplishments in the engineering field.
The Clark School is also pleased to honor Preeti S. Chauhan with the Early Career Award. This distinction is granted to recent alumni who demonstrate meritorious contributions and rapid advancements during the beginning stages of their careers. As an award recipient, Chauhan has already exemplified the highest degree of dedication to the engineering field.
"Our recipients have all distinguished themselves, either through truly exceptional service to their community, the Clark School, the engineering profession, or the public. Each has made distinguished contributions to the theory and practice of engineering or has demonstrated major accomplishments or guidance in emerging fields of technology," said Dean Darryll Pines.
All award winners were celebrated during the Annual Recognition Dinner in College Park, Maryland on Friday, November 10, 2017.
Glenn L. Martin Medal Recipients
Robert D. Briskman is President of Telecommunications Engineering Consultants, L.L.C. He received his B.S. from Princeton University in 1954 and a M.S. in Electrical Engineering from the University of Maryland in 1961. Mr. Briskman has previously served as Senior Vice President of Engineering at Geostar Corporation, Chief of Program Support for the Office of Tracking and Data Acquisition at NASA, and Vice President of System Implementation of COMSAT General Corporation. Today, he is a Fellow of the IEEE and has authored more than seventy technical papers. He has also been inducted into the SSPI, the CEA Consumer Electronics, the International Astronautics Federation and the Space Foundation Halls of Fame, and the University of Maryland Innovation Hall of Fame.
William R. Calhoun, Jr. is Vice Chairman & Executive Vice President of Clark Construction, where he is responsible for driving strategic direction, including the acquisition of new work, and identifying new and emerging markets. Since joining Clark Construction in 1983, Mr. Calhoun has provided leadership on a number of award-winning projects including National Geospatial-Intelligence Agency New Campus East, Brooke Army Medical Center, Capital One Arena, and the National Institute of Standards and Technology Advanced Measurement Laboratory. Mr. Calhoun holds a Bachelor's degree in Civil Engineering from the Georgia Institute of Technology and completed the Advanced Management Program at Harvard Business School. He's a member of the Georgia Tech College of Engineering Advisory Board and the School's Construction Advisory Board. He has also been inducted into Georgia Tech's Academy of Distinguished Engineering Alumni and into the National Academy of Construction. Currently, Mr. Calhoun serves on the Board of Visitors for the A. James Clark School of Engineering at the University of Maryland.
Nancy Margolis served as President of Energetics Incorporated in Columbia, Maryland from 2010 until her retirement this past summer. During her 33-year career at Energetics, Ms. Margolis supported clients at the U.S. Department of Energy and its national laboratories on R&D programs to improve the energy efficiency of U.S. manufacturing. Since earning a B.A. in Chemistry from Johns Hopkins University in 1977 and an M.S. in Mechanical Engineering from the University of Maryland in 1981, Ms. Margolis has worked to improve sustainability across the Maryland area. She has contributed to several National Academies' studies, including the 2008 report "America's Energy Future." She is also recognized by the U.S. Department of Energy for her contributions to developing "Visions and Technology Roadmaps for U.S. Industries" and was included by DOE on its "Steel Industry of the Future Wall of Fame." Currently, Ms. Margolis mentors early- and mid-career women engineers, and serves as Chair of the Visiting Committee for UMD's Mechanical Engineering Department and is a member of the American Society of Mechanical Engineers.
Richard L. Vogel, Jr. is Senior Vice President and Member of the Board of Directors at the Whiting-Turner Contracting Company, where he focuses on construction work the Mid-Atlantic area. Since joining the company in 1972, Mr. Vogel has opened and overseen several of its offices across the Virginia area. In his 45 years with Whiting-Turner, Mr. Vogel has successfully managed many hundreds of projects, including facilities in the areas of, education, institutional, corporate headquarters and office, apartments, data centers, hotels, retail, and many other types of building construction. Mr. Vogel received both his B.S. in Civil Engineering (1972), and his MBA in Finance (1980) from the University of Maryland, where he has stayed actively involved in the School of Architecture.
Early Career Award Recipient
Preeti S. Chauhan is the Quality and Reliability Program Manager for Assembly Packaging and Test Development in Technology Manufacturing Group (TMG) at Intel Corporation. There, she leads a team of fifteen engineers to enable qualification and certification of Intel's XEON server microprocessors. Since graduating with MS and PhD degrees in Mechanical Engineering from James Clark School of Engineering in December 2012, Dr. Chauhan quickly established herself as an expert in areas of first level interconnect and assembly processes, and, in 2017, was awarded the TMG Excellence Award, the highest recognition in the business group, for her contributions to next generation test processes. Dr. Chauhan has been on the conference committee of prestigious IEEE PHM, and delivered keynote speeches at multiple IEEE PHM conferences internationally. She has also been the peer reviewer of Microelectronics Reliability and TDMR journals for the past 5 years. Dr. Chauhan has been actively engaged in Women at Intel and role modeled women in leadership position in STEM by mentoring technical female peers on technical and soft skills development.
Published December 7, 2017