Clark School & Computer Science Alumnus Donates $31M to UMD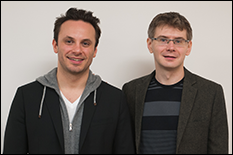 The University of Maryland today announced a $31 million gift from Oculus co-founder and CEO Brendan Iribe, an alumnus who studied engineering and computer science at the university before pursuing several technology startups.
The majority of the gift will support the construction of a new building, the Brendan Iribe Center for Computer Science and Innovation, a state-of-the-art facility designed for faculty and student hackers, makers, and engineers to thrive in the fields of virtual reality, augmented reality, computer vision, robotics, and future computing platforms. A portion of the gift will also fund the Brendan Iribe Scholarship in Computer Science.
"Mr. Iribe's generous gift to the university will inspire new opportunities for computer science and engineering students and faculty to innovate, make, and potentially commercialize their ideas," said Darryll Pines, Farvardin Professor and Dean of the A. James Clark School of Engineering.
Oculus co-founder and chief software architect Michael Antonov, a 2003 graduate of UMD's computer science program, has also made a $4 million gift to support the development of the building as well as scholarships.
Published September 12, 2014