Kusimo Selected for a 2014 Women of Color Student Leadership Award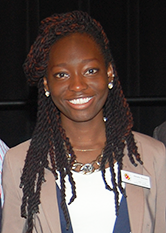 Mechanical Engineering senior Abisola Kusimo was recently selected for a 2014 Women of Color Student Leadership Award. As part of the award, Kusimo has been invited to attend the 19th annual Women of Color [WOC] STEM Conference at the Detroit Marriott at Renaissance Center in Detroit, MI from October 23-25, 2014 where she will be recognized for her achievement.
Kusimo is not only a dedicated engineering student, but she is also a passionate advocate for women's rights and contemporary issues by way of poetry. Her passions have propelled her into visiting over six different countries, leading students on South Campus as an RA, participating in Hinman CEOs, working with Women in Engineering Research fellows for three years and becoming a Top Ambassador for the Clark School. To nurture her varied interests, Kusimo is also pursuing three minors in addition to her major in mechanical engineering: Rhetoric Communication, Engineering Leadership Development and Technology Entrepreneurship.
Throughout her years in the department, she has received numerous honors, including the Department of Mechanical Engineering Chairman's Award, the Center for Minorities in Science and Engineering Service Award and the Kim Borsavage and Pamela J. Stone Student Award. She has also been a semi-finalist in the ASME International Undergraduate Research Competition and co-authored a research paper with Professor Peter Sandborn in spring 2012. Most recently, Kusimo was recognized with two awards at the McNair Scholars Luncheon for her work with the McNair Scholars' Summer Research Institute. She aspires to attain her Ph.D. and become an engineering professor.
Hosted by Women of Color magazine, the WOC conference offers both professionals and students alike network and development opportunities for continues success in STEM fields. According the conference brochure, "WOC has traditionally been an environment where women in STEM dialogue with one another about workforce challenges and triumphs. Subject matter experts will lead seminars on leading and managing change in the military, industry, government and academia as your ideas, insights, tips and advice reinforce discussions aimed to help both employer and employee connect and learn pathways to success."
For more information on WOC, please visit their website.
Published September 12, 2014