CATT Game Builders Win with "scrEWEd"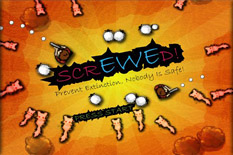 Researchers at the Center for Advanced Transportation Technology Laboratory (CATT Lab) won first place in a local competition for conceptualizing and creating a video game in just 48 hours. Full-time researchers Jenny Lees, Michael Couture and Walter Lucman joined forces with student Todd Lees and team member Alex Tran. Their team placed first in a local Global Game Jam (GGJ), which was hosted at the Universities at Shady Grove.

GGJ is a world-wide event bringing thousands of game enthusiasts together to compete in local jams. Participants have 48 hours to develop a game and are only given a theme to follow; this year's theme was extinction. The local Jam at Shady Grove had 30 participants making up six teams. Globally, more than 44 countries, 170 locations, and 6500 participants concurrently created nearly 1500 games, breaking last year's record for the largest game jam ever, according to GGJ officials.
After a few hours of brainstorming, the team decided to develop a defensive game where the player would defend a group of sheep from waves of enemies that continuously increased in number. The completed game was titled "scrEWEd" with the description reading, "You are a shepherd defending the world's last herd of sheep from a wolf epidemic."

"We were all really pleased with this year's final product," Jenny Lees explained. "Michael, Alex and I have done a few game jams before this one and we've never ended with a game quite this complete. All of the team members approached this game jam with the goal to make something complete. It didn't matter how simple it was so long as we had something polished by the end of 48 hours."

Team members spent 48 straight hours working on the game, which had its challenges.
"I thought it was funny how difficult it was to find a place to sleep for the handful of hours we did," said Todd Lees. "I ended up in a study room the first night and a stairwell the last."

All the games produced at the Shady Grove jam were reviewed by a panel of judges ranging from local game company owners to university professors. scrEWEd was selected because it was a complete and functional concept that could be shipped out and marketed after 48 hours.

"I'm extremely impressed with the creativity and talent of our employees," said Michael L. Pack, director of the CATT Laboratory. "This isn't the first time they've won a game jam, either. A couple of years ago they entered, and won the 'Games for Health Game Jam', which came with a significant cash prize. I'm just so very excited and proud of their consistent hard work."
The team hopes to continue working on the game to get it up and running on Xbox Live.

About the Global Game Jam

The Global Game Jam (GGJ) is the world's largest game jam event occurring annually in late January. GGJ brings together thousands of game enthusiasts participating through many local jams around the world. GGJ is a project of the International Game Developers Association (IGDA).

The GGJ was the brainchild of IGDA Education SIG director, Susan Gold, in collaboration with active IGDA members Gorm Lai and Ian Schreiber. GGJ was founded in 2008 as an IGDA event to broaden the outreach of the game education and the goals of curriculum framework while giving the world an opportunity to create games in the world's largest Game Jam to date. The GGJ prides itself on collaboration, both in organizing as well as making of games. GGJ was inspired by and modeled itself after the Nordic Game Jam.

The 1st Annual GGJ was held January 30-Feburary 1, 2009 with much critical acclaim and success. With over 1600 participants in 23 countries, the GGJ produced 370 games. In 2010, the number of participants increased to over 4300 with about 900 finished games.

GGJ is a volunteer run organization, built upon the very hard work of the leadership, site organizers and of course the participants. For more information about GGJ visit: http://globalgamejam.org
About the CATT Lab
The Center for Advanced Transportation Technology Laboratory (CATT Lab) in the A. James Clark School of Engineering Department of Civil and Environmental Engineering at the University of Maryland, College Park, supports National, State, and local efforts to provide safe and efficient transportation systems through improved operations and management by means of research and development, technology implementation, training and education.
The CATT Lab is supported by an interdisciplinary staff of graduate and undergraduate student researchers, affiliated faculty of the Department of Civil Engineering, and a permanent team of ITS professionals. For more information about the CATT Lab visit www.cattlab.umd.edu.
Published February 17, 2011