Alum and Innovator James A. Clark Dies at 88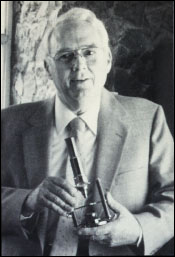 The Clark School has learned that alumnus and inductee into the Innovation Hall of Fame James A. Clark passed away last year at the age of 88.
Not to be confused with Clark School namesake A. James Clark, James A. Clark was inducted into the Clark School's Innovation Hall of Fame in May 1987 for innovations in optical instruments and the manufacture of soft contact lenses. He held engineering management positions at Bausch & Lomb and at the time of induction was vice president of process and product development.
Clark held nearly 45 patents associated with optical scientific products. One process he developed shortened, from 20 minutes to less than one minute, the time it took an eye surgeon to insert and fixate an intraocular lens.
Clark held B.S. and M.S. degrees in mechanical engineering from the Clark School and was honored with the Clark School's Distinguished Alumnus Award in 1978.
Clark is survived by three children and several grandchildren.
Published November 2, 2011