Whiting-Turner President and CEO Hackerman Passes at 95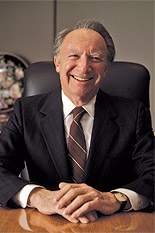 Willard Hackerman, president and CEO of The Whiting-Turner Contracting Company and a prominent philanthropist, has passed away peacefully on February 10. He was 95.

"We here at the University of Maryland are all saddened to hear about the passing of Mr. Hackerman," said Dean of the A. James Clark School of Engineering and Farvardin Professor Darryll Pines. "He has been a truly transformative leader of Whiting-Turner and has put the firm on the map in the nation and the world in the construction community. The legacy he has built is remarkable and represents one of Maryland's proudest jewels of economic development and impact."

Mr. Hackerman grew up in Baltimore, Md., and attended Baltimore Polytechnic Institute, a public high school known for its engineering program. He started his career at Whiting-Turner in 1938, soon after graduating from the Johns Hopkins University, where he studied civil engineering. He celebrated his 75th anniversary with Whiting-Turner last year, and has led the company for over five decades. He remained active at work until his death.
Under the leadership of Mr. Hackerman, his company established the Whiting-Turner Business and Entrepreneurial Lecture Series at the University of Maryland's A. James Clark School of Engineering in 1995. The series celebrates the fearlessness of entrepreneurship and brings leading technology enterprise thinkers to campus who deal with the real-world challenges of a fast-paced, global economy. Speakers share their insights and experiences as well as their lessons and advice, inspiring students and faculty to apply new ideas and approaches to their careers and ideas for new ventures. Past Whiting-Turner Lecturers include Ted Leonsis, Irwin Jacobs, Ray Johnson, and Robert Briskman.
In addition to supporting the longstanding Whiting-Turner Lecture Series, Mr. Hackerman and Whiting-Turner have also supported the Whiting-Turner Internship-Scholarship program, University Incentive Awards, the Charles Irish Professorship, and the Charles Irish Laboratory.
Whiting-Turner is also a Clark School Corporate Partner, a sponsor of the University of Maryland's 2011 Solar Decathlon Team, host of our annual Clark School Alumni Receptions at the Engineers Club in Baltimore, and contributes the service of many Whiting-Turner Leaders on University of Maryland boards, including the Clark School Board of Visitors.
G.W.C. Whiting and LeBaron Turner founded The Whiting-Turner Contracting Company in 1909, and today it is one of the nation's largest construction management and general contracting companies. The company provides the full spectrum of construction services on projects small and large in markets such as retail, office, education, health care, life sciences, technology, transportation and utilities, with over 2,000 employees. Whiting-Turner perennially ranks with the top domestic general building contractors as ranked by Engineering News Record. Whiting-Turner has been responsible for constructing buildings across Maryland, including on the University of Maryland's College Park campus.

In addition to his wife, Lillian Patz Hackerman, Mr. Hackerman is survived by a son, Steven, and a daughter, Nancy.
Published February 10, 2014