Munday Awarded SPIE Early Career Achievement Award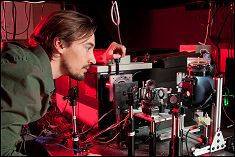 Assistant Professor Jeremy Munday (IREAP, ECE) has been named the recipient of the 2014 SPIE Early Career Achievement Award.
SPIE is the international society for optics and photonics. The society advances an interdisciplinary approach to the science and application of light, and this award recognizes "significant and innovative technical contributions to any of the engineering or scientific fields of interest to SPIE."
Specifically, Prof. Munday is being honored for his "innovative experimental and theoretical work on photonic engineering for solar energy devices and Casimir forces." More information on Prof. Munday's work can be found on his lab website.
Published February 11, 2014