UMD's 4th Annual Bitcamp Hackathon Becomes Largest to Date with over 1,300 Participants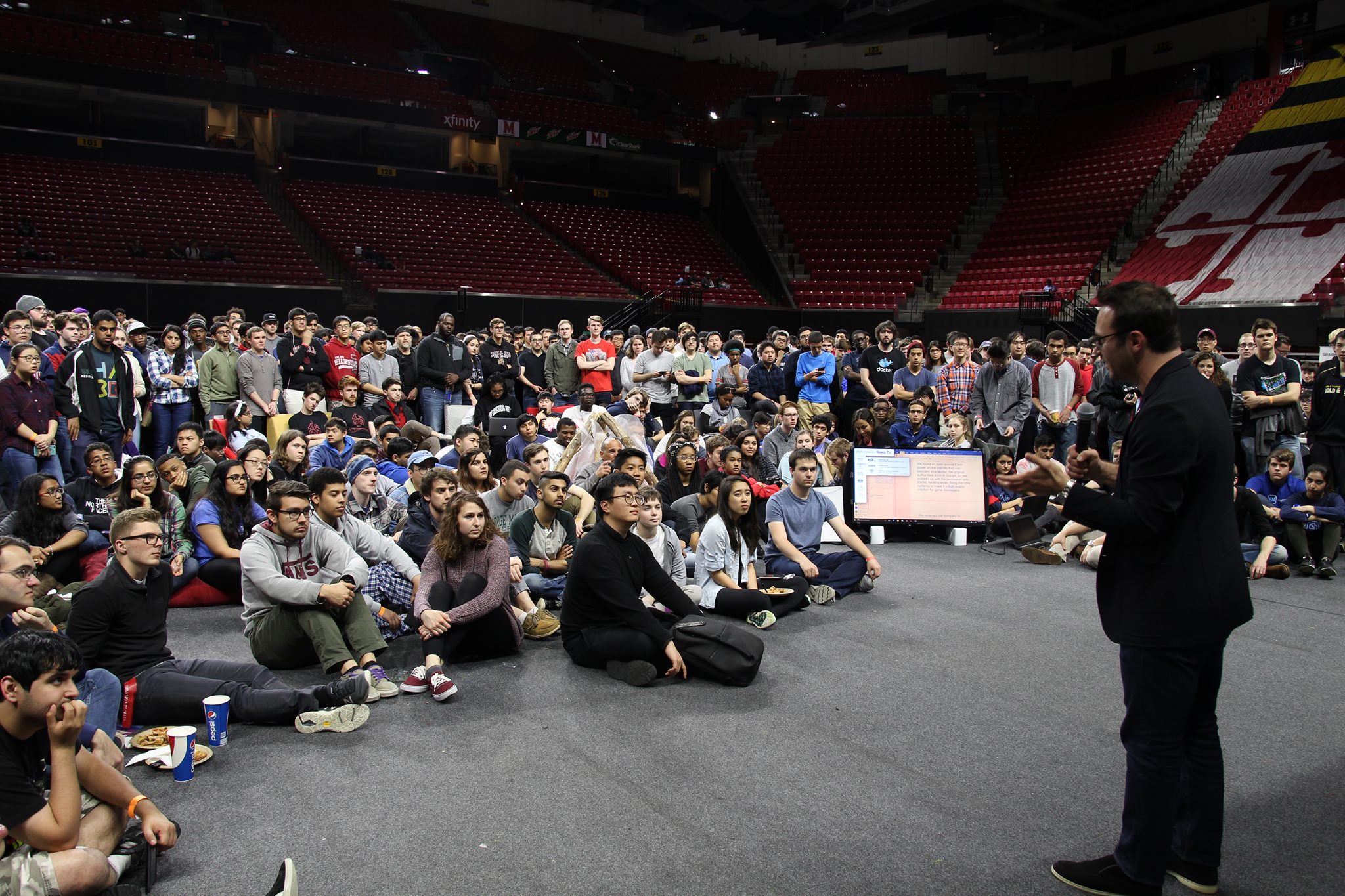 Bitcamp, the University of Maryland's student-run hackathon, became the largest Bitcamp to date at this year's annual event with more than 1,300 participants and 200 volunteers, mentors, and sponsors. Held April 7-9, 2017 at the Xfinity Center, programmers, designers, and engineers collaborated on original hardware or software projects for 36 hours. Buses to the event were provided from UMBC, Johns Hopkins, Stony Brook, Virginia Tech, and George Mason University. The event began Friday, April 7, and participants presented their projects during an expo on Sunday, April 9. Bitcamp is a multidisciplinary event for exploration, and this year's theme, "Build Together," placed emphasis on collaboration.
Throughout the weekend, participants attended various workshops and tech talks and took part in competitions such as COLORWAR, a design competition in which students participate in fast-paced design challenges for consideration to win. Contestants made visual representations of Bitcamp's "Build Together" theme, and Lanshi B. Nguyen was this year's COLORWAR winner.
Keynote Speaker and Co-founder of Oculus, Brendan Iribe, gave a raw account of his journey to Oculus (including leading the product team at Gaikai and co-founding Scaleform) in his keynote, and encouraged hackers to "be obsessed with their idea" and stick with it. He returned the following night to talk with student teams and learn more about their projects.
A total of 200 hacks were submitted by students (the largest amount in Bitcamp history) that demonstrate the ability to launch what could be the basis for a new product or company in a condensed timeframe. Some highlighted projects from the event include: A VR air traffic controller simulation, where trainees can report a potential crash through an Amazon Echo, An AR human skill pong (built by a team of UMD students), an Uber for intoxicated individuals in which designated drivers may be requested through the mobile app and a person's location will be added to the designated driver's queue, and a pet robot built with arudino and sensors to wag its tail when pet and go to sleep when the lights are off.
"Every year, Bitcamp fosters a community of students fueled by curiosity and a hunger for building things, novice and experienced alike," says Bitcamp's Executive Director, Vincent Song. "We're always excited to work with fellow students, university/corporate partners, and other student-run organizations to keep the spirit of entrepreneurship and self-driven development alive at Maryland."
Bitcamp is held as part of 30 Days of EnTERPreneurship, a month-long celebration of UMD's fearless ideas and innovations. The event is co-hosted by Facebook and Oculus, and a full list of event sponsors can be found at bitca.mp.
Published April 24, 2017