Three Clark School Students Win Top Prize in the Hult@UMD Competition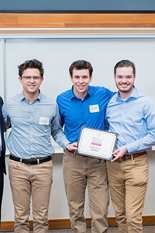 Three A. James Clark School of Engineering students won first place in the second annual Hult@UMD competition held on December 6, 2019 and hosted by the Dingman Center for Entrepreneurship.
Out of 27 teams who registered and 10 teams that pitched at the event, the winner was Hydraze, a startup with a patent-pending solution that prevents auto-flushing toilets from generating "phantom flushes." This innovation would save 27 million gallons in water per year at University of Maryland alone, and has the potential to serve a $4 billion market of commercial buildings nationwide.
Co-founded by three seniors, mechanical engineering major Charles Grody '20, computer engineering major Jack Sturtevant '20 and aerospace engineering major Tuvia Rappaport '20, Hydraze received a grant from the UMD sustainability fund to do a pilot installation of their product at The Clarice Performing Arts Center.
The Hult Prize asks participants to explore ideas that answer a specific social challenge. This year's challenge was to build a startup that has a positive impact on our planet with every dollar earned. Winners of Hult@UMD advance to a regional round to compete for a spot in the summer accelerator and ultimately an opportunity to pitch to the United Nations for the grand prize of $1 million to fund their idea.
The Hydraze team won the 2019 Do Good Challenge and will also compete in the 2020 Pitch Dingman Competition Finals. As the Hult@UMD winners, the Dingman Center will provide them with a travel stipend and advising resources for the regional Hult Prize competition.
Adapted from: Student Venture Hydraze Advances at University of Maryland's Hult Prize Competition
Published December 19, 2019