TAP Company Launches New Legislative Software Service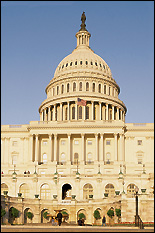 Potomac Publishing
, a division of DataStream Content Solutions, LLC—a graduate of the Clark School's
Technology Advancement Program (TAP)
—has launched a new software product offering real-time analysis of how proposed federal legislation impacts existing law.
The service examines public laws, bills, and resolutions. Potomac Publishing will include other services such as custom legislative alerts, a Washington calendar, a listing of recent laws, and a bookstore to custom print any piece of legislation on the site. It will be fully text-searchable later this summer.
DataStream President Mark Anstey unveiled the new service in the TAP building on the College Park campus.
"One of the best things we ever did is move to the University of Maryland and this technology incubator," Anstey said.
TAP is a part of the Clark School's Maryland Technology Enterprise Institute (MTECH).
DataStream also has benefited from the Maryland Industrial Partnerships (MIPS) program, also run by MTECH. MIPS provides matching funds for collaborative research projects between companies and University System of Maryland faculty.
"MIPS has been absolutely tremendous in their support of DataStream," Anstey said.
Published July 21, 2005