Clark School Team Wins Flight Competition for Eighth Year in a Row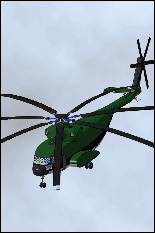 The Clark School took first place for the eighth consecutive year in the American Helicopter Society's 22nd Annual Student Design Competition.
The Clark School came in first in the graduate student category in the competition, which was sponsored by The Boeing Co. this year.
The competition challenges students to design a vertical lift aircraft that meets specified requirements – this year's challenge was to develop the conceptual design of a modern military Heavy Lift VTOL aircraft. The aircraft had to be designed to operate from existing naval ships and be able to transport a 20-ton combat-ready vehicle.
The Clark School team was made up of aerospace engineering students from the Alfred Gessow Rotorcraft Center. Faculty advisors included Inderjit Chopra, Vengalattore Nagaraj and Marat Tishchenko.
Published July 13, 2005