President Mote Wins NAE Founders Award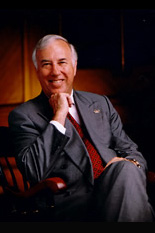 University President (and Clark School faculty member) C.D. Mote, Jr., will be presented with the Founders Award by the
National Academy of Engineering
this weekend.
Dr. Mote will receive the award "for the creation of a comprehensive body of work on the dynamics of moving flexible structures and for leadership in academia." The award recognizes outstanding professional, educational, and personal achievement to the benefit of society, and it includes $2,500 and a gold medallion.
Dr. Mote is a NAE member and also a Glenn L. Martin Institute Professor of Engineering in the Clark School.
For more on Dr. Mote's award, click here.
Published October 6, 2005