NCC-PDI awards $50K to Device Innovators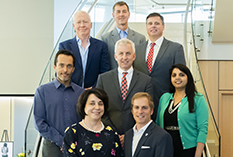 The National Capital Consortium for Pediatric Device Innovation (NCC-PDI) announced five winners of its "Make Your Medical Device Pitch for Kids!" competition who will each receive $50,000 in grant funding and access to the consortium's first-of-its-kind "Pediatric Device Innovator Accelerator Program" led by MedTech Innovator. A panel of expert judges from business, healthcare, regulatory and legal sectors selected the winners based on the clinical significance and commercial feasibility of their medical devices for children. The competition focused solely on advancing care in pediatric orthopedics and spine, a sector that the FDA identified as an emerging underserved specialty which lacks innovation.
The 2019 NCC-PDI "Make Your Medical Device Pitch for Kids!" competition winners are:
AMB Surgical, LLC, Dayton, Ohio – FLYTE, a device designed to reduce invasive and repetitive surgery in children and teens with orthopedic illnesses such as scoliosis and limb abnormalities
Auctus Surgical, Inc., San Francisco, Calif. – Auctus Surgical Dynamic Spinal Tethering System, a mechanism used to correct the scoliotic spine in pediatric patients through a tethering procedure
ApiFix Ltd, Boston, Mass. – ApiFix's Minimally Invasive Deformity Correction (MID-C) System, a posterior dynamic deformity correction system for surgical treatment to provide permanent spinal curve correction while retaining flexibility
Children's National Health System, Washington, D.C. – Babysteps platform to improve initial assessment of clubfoot deformity and predict the magnitude of correction
nView Medical, Salt Lake City, Utah – Surgical scanner using AI-based image creation to provide instant 3D imaging during surgery to improve imagery speed and accuracy
The competition was held at the University of Maryland, College Park by NCC-PDI, one of five FDA Pediatric Device Consortia grant programs that support the development and commercialization of pediatric medical devices. NCC-PDI is led by the Sheikh Zayed Institute for Pediatric Surgical Innovation at Children's National Health System and the A. James Clark School of Engineering at the University of Maryland. The consortium recently added new accelerators BioHealth Innovation and MedTech Innovator and design firm partner, Smithwise.
Through the inaugural NCC-PDI "Pediatric Device Innovator Accelerator Program," MedTech Innovator is providing winners with virtual in-depth, customized mentorship from some of the industry's leading executives and investors. With its prestigious Showcase & Accelerator program, MedTech Innovator has a proven track record of identifying early-stage medical device companies with the key characteristics required for commercial success and accelerating their growth through its vast ecosystem of resources.
"This is our first time creating an accelerator track specifically for pediatrics in conjunction with NCC-PDI and we believe that our combined experiences and network provide an opportunity for these winning innovators that puts them on a guided path to reaching patients," says Paul Grand, CEO of MedTech Innovator and one of the judges of the competition. "The passion that emerged during the winning pitch presentations demonstrated that the innovators are aligned with our unified goal of advancing the development of pediatric medical devices."
Grand was one of 32 judges who heard the presentations by the 12 finalists during the live pitch competition. Afterward, the judges posed questions about the quality and feasibility of the technology, approach to development, company structure, current resources and plans to secure additional funding.
"Today, we saw high quality presentations by the 12 finalists, many of whom went through the Pitch Perfect coaching by BioHealth Innovation entrepreneurs. It's very exciting to witness how far we have come in the past six years as consortium partners," says Kolaleh Eskandanian, Ph.D., MBA, PMP, vice president and chief innovation officer at Children's National and principal investigator of NCC-PDI. "All finalists are winners and we believe that, with NCC-PDI's support, some of the awarded devices will be available to orthopedic and spine clinicians in the near future and that's important since innovation has been stagnant in this area."
The competition day also included a live recording of a "BioTalk with Rich Bendis Podcast" segment that examined the importance of incorporating the child's perspective into the research and development of innovative pediatric products. The on-stage interview featured a conversation between Bendis and Laurie Strongin, CEO of Hope for Henry Foundation, a nonprofit that is reinventing how hospitals care for seriously ill children and their families through innovative programs that entertain, reduce stress and empower children to be active participants in their own care.
"This podcast discussion was impactful because it adds value to the innovators' experience, reminding them that they need to be thinking about the patient experience during every phase of product development," says William E. Bentley, Ph.D., Robert E. Fischell distinguished professor and director of the Robert E. Fischell Institute for Biomedical Devices at the University of Maryland. "What is clear from the interview is that innovators have an opportunity to influence patient experience and outcomes through thoughtful design."
As principal investigators, Eskandanian and Bentley attribute the success of NCC-PDI to the strength of collaboration among consortium partners who will each play an important role in the next phase of device development for the competition winners.
BioHealth Innovation provided all finalists with pitch coaching through its Entrepreneurs-In- Residence program. A Maryland-based innovation intermediary, BioHealth Innovation supports the transformation of research projects into new business opportunities.
MedTech Innovator, based in California, is a virtual startup that matches health care industry leaders with early-stage, emerging- growth medtech companies for mentorship and support.
Smithwise advises innovators regarding the impact of design decisions on a device such as ease of use, ease of manufacturing, materials availability, cost and other key aspects. They have offices in Massachusetts and Pennsylvania.
This was NCC-PDI's eighth competition in six years and a ninth competition is planned for fall 2019 that focuses on NICU. Including this recent round of winners, the consortium has supported 94 pediatric medical devices and helped five companies receive FDA or CE mark regulatory clearance.
Published May 7, 2019