Nazeri Welcomed at Petroleum Institute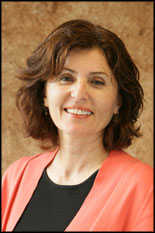 Azar Nazeri, visiting professor of mechanical engineering, was welcomed by the Arzanah Campus of the Petroleum Institute (PI) in Abu Dhabi in November in recognition of her facilitation as research manager for the Energy Education and Research Collaboration (EERC) between PI and the University of Maryland.
At the event, students had a chance to discuss issues related to women in engineering and their status in North American societies at large. Nazeri encouraged students to be strong believers in their chosen field and stressed the importance of being dedicated and committed to their profession. The event was organized by Valerie Eveloy, assistant professor of mechanical engineering at the Petroleum Institute.
Nazeri brings with her more than fifteen years of experience as a research scientist and program manager at the Naval Research Laboratory and the Office of Naval Research, overseeing the management and completion of vital naval technology developments and materials research programs. Nazeri received her Ph.D. in materials science and engineering at UCLA.
Published December 12, 2007