MIPS Wins National Economic Development Award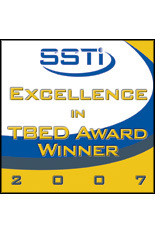 The Clark School's Maryland Industrial Partnerships program was selected to receive a national Excellence in Technology-Based Economic Development (TBED) Award from the State Science and Technology Institute (SSTI), a national nonprofit organization that leads, supports and strengthens efforts to improve state and regional economies through science, technology and innovation.
MIPS' award was in the Improving Competitiveness of Existing Industry category.
The awards are designed to celebrate exceptional achievement in addressing the elements found in successful technology-based economies and offer practitioners and policymakers examples of successful approaches employed by others.
"The Maryland Industrial Partnerships program represents an excellent model for bringing the University of Maryland and private companies together and for its ability to solve critical R&D challenges for companies commercializing technology products," says Dan Berglund, SSTI president and CEO. "This program is worthy of praise for its success in encouraging technology-based growth in Maryland."
MIPS is a program of the university's Maryland Technology Enterprise Institute, or MTECH, whose ten programs share a collective mission to educate the next generation of entrepreneurs, create new technology ventures, and connect Maryland companies with university resources to help them grow.
MIPS' award, in the Improving Competitiveness of Existing Industries category, recognizes initiatives expanding the innovation capacity of existing companies or industries to develop new leading edge products or services or significantly enhance the competitiveness of their existing operations.
Winning initiatives are selected by committees of accomplished TBED practitioners and policymakers through a competitive process.
Established in 1987, MIPS teams University System of Maryland faculty with Maryland companies to develop technology-based commercial products. The objective of the program is to transfer university knowledge and expertise directly to Maryland companies, where it can be commercialized and benefit the Maryland economy.
MIPS faculty/company research projects have contributed to products such as:
Martek Biosciences' omega-3 infant food and nutritional additives, licensed to infant formula and nutritional product manufacturers such as Kellogg, Mead Johnson Nutritionals, Abbott Laboratories, and Nestle;

The entire sail line for Quantum Sails, the second largest sail maker in the world;

MedImmune's blockbuster drug Synagis, which prevents a serious lower respiratory tract disease in infants;

Hughes Communications' HughesNet, the world's leading broadband-by-satellite service; and

Black & Decker's Bullet Speed Tip Masonry Drill Bits, which drill up to two times faster than competitive bits and drill up to six times more holes per battery charge when using a cordless drill.
Products benefiting from MIPS research have generated more than $12.1 billion in sales and revenue. MIPS has provided matching funds for more than 577 projects, worth a total value of $152 million in R&D expenditures.
"MIPS enables faculty and students to engage in real-world research with direct commercial applications," says C.D. "Dan" Mote Jr., president of the University of Maryland. "The program also fulfills the university's outreach role as a flagship institution by transferring knowledge into the commercial sector with proven results-creating jobs, enhancing the state's economy, and driving products that improve our lives.
Companies from the latest round of MIPS funding project $2.6 billion in product sales, as well as the creation of 369 new, high-technology jobs. At this rate, the program would create jobs at a cost of $2,700 per job-well below the $10,000 traditional economic development estimate for dollars expended to create a job.
Published December 10, 2007