McCuen to Receive ASCE Ven Te Chow Award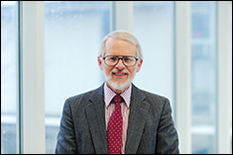 Department of Civil and Environmental Engineering (CEE) Professor and Ben Dyer Chair Richard H. McCuen was recently named the recipient of the American Society of Civil Engineers (ASCE) Ven Te Chow Award for prolific, innovative scholarship in engineering hydrology. McCuen will receive the award later this month during the World Environmental and Water Resources Congress in Austin, Texas.
According to a recent ASCE article, McCuen was recommended for the award by the Watershed Council of the ASCE/Environmental and Water Resource Institute's Surface Water Hydrology Technical Committee. He was commended for his benchmark contributions to hydrologic practice as well as for his tireless mentorship of students and colleagues.
As a dedicated teacher, McCuen has advised or served on committees for more than 70 graduate students, with many of his Ph.D. and master's advisees now in leadership positions throughout the profession.
An author of nearly 200 professional papers and 23 books, McCuen was recognized for his exceptional achievement and significant contributions in research, education, and practice, ASCE noted.
In addition to ASCE membership, McCuen is also a member of the American Water Resources Association and the American Association for the Advancement of Science.
Published May 1, 2015