Golden Terps Shine at Spring 2019 Commencement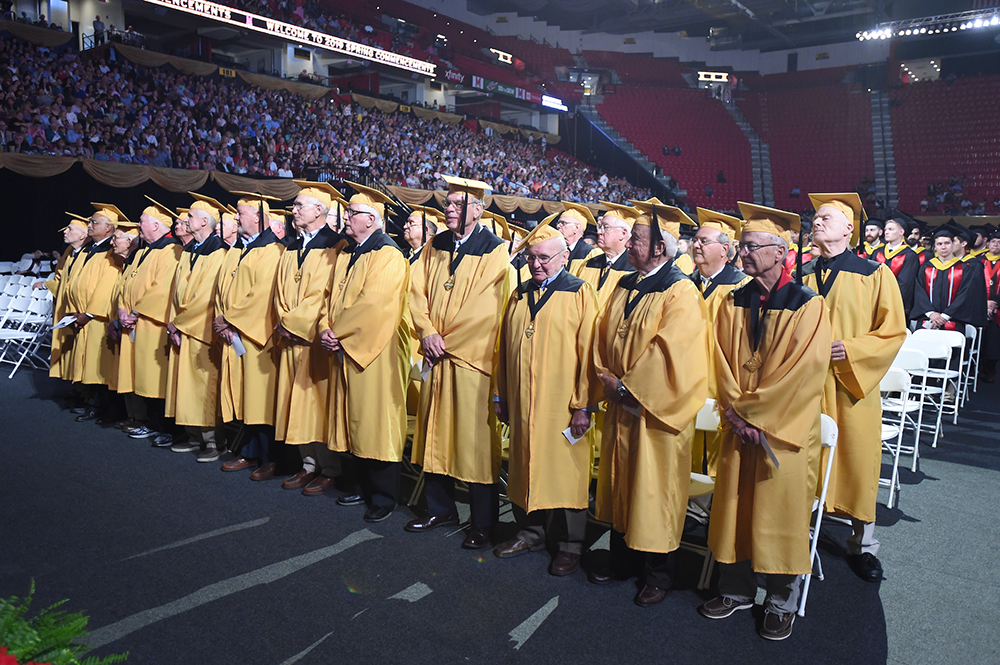 [View the Golden Terps Spring 2019 photo album.]
The A. James Clark School of Engineering honors this year's Golden Terps—32 alumni celebrating the 50th, 55th, 60th, and 70th anniversaries of their University of Maryland graduations.
The Golden Terps led the Clark School's undergraduate commencement procession wearing their golden robes and medallions and crossing the stage to the cheers of this year's graduates. Each year the occasion recognizes the contributions of generations of Clark School alumni who serve as inspiration to the current engineering graduates.
In addition to the official commencement proceedings, the Golden Terps were celebrated at a private ceremony and brunch. Each Golden Terp was presented with their golden medallion and invited to make brief remarks about their time at Maryland. During these remarks alumni reminisced about everything from athletic events to early computers to slide rules. Take a look at some of the memories and stories shared by 2019's distinguished Golden Terps.
Notable to this year's program was the inclusion of Emilio Fernandez, Jr. ('69, electrical engineering), co-founder and former CEO of Pulse Electronics and the undergraduate commencement speaker. Fernandez spoke of overcoming adversity, describing his initial difficulty with his courses—and determination to succeed. Through his persistence, Fernandez worked to excel at what was then the Glenn L. Martin Institute of Technology and achieve great success in his career. He is now a successful entrepreneur who holds 25 patents, including one for the technology used in e-reader devices like the Kindle. The accomplished alumnus and member of both the University of Maryland College Park Foundation Board of Trustees and Clark School Board of Visitors also gives back to the Clark School, and has pledged the naming gift to help build the E.A. Fernandez IDEA (Innovate, Design and Engineer for America) Factory. The new building will serve as the home for cutting edge research in quantum technology, rotorcraft, and robotics.
The ceremony also paid tribute to Chester Burgess ('49, mechanical engineering). Celebrating his 70th reunion, Burgess was the oldest Golden Terp in attendance, having originally enrolled at Maryland in 1941. His time in the College of Engineering was interrupted by World War II; he served in the Navy before he returned to the university to finish his degree. Burgess is also a veteran of the Korean War. He received a standing ovation from the audience in honor of his military service and the accomplishment of reaching his 70th reunion.
Many of the Golden Terps expressed their gratitude for the education, memories, and friendship they found as a result of their time at UMD. Richard Martin ('59, M.S. '62, Ph.D. '68, electrical engineering) and Russell Glock ('59, M.S. '66, Ph.D. '74, electrical engineering) spoke of a lifelong friendship forged during their nine years together at the College of Engineering. Glock was even the best man in Martin's wedding! They both expressed how lucky they were to share their college and post-graduate years with each other and recognized the college for fostering their friendship.
The Clark School is extremely proud of the legacy and achievements of these and all 32 Golden Terps. Please join us as we celebrate this year's Golden Terps!
Dr. Harvey Abelson (Ph.D. '69, mechanical engineering)
Mr. Angel P. Bezos ('69, electrical engineering)
Mr. Barry Black ('69, civil engineering)
Mr. Ernest Bond ('69, civil engineering)
Mr. Chester Burgess ('49, mechanical engineering)
Mr. John Butler ('69, aerospace engineering)
Mr. Arthur Corbin ('69, chemical engineering)
Dr. Oliver Bruce Dale ('64, M.S. '67, mechanical engineering)
Mr. Charles Delss ('69, chemical engineering)
Mr. John "Jack" Arthur Drager ('64, mechanical engineering)
Mr. Charles Reno Engle III ('69, civil engineering)
Mr. Kenneth Myer Epstein ('69, M.S. '73, civil engineering)
Mr. Emilio Fernandez ('69, electrical engineering)
Mr. Eric Kay Fromm ('69, electrical engineering)
Dr. Oscar Nicolas Garcia ('69, electrical engineering)
Mr. Michael Garnek ('69, aerospace engineering)
Dr. Russell Glock, Jr. ('59, M.S. '66, Ph.D. '74, electrical engineering)
Mr. Bernard S. Graf ('69, electrical engineering)
Rev. Robert M. Harvey ('69, mechanical engineering)
Mr. George Kallarakal ('69, electrical engineering)
Mr. Lynn Lowry ('69, civil engineering)
Dr. Richard Martin ('59, M.S. '62, Ph.D. '68, electrical engineering)
Mr. Theodore John Michalek ('69, aerospace engineering)
Mr. Vincent Neradka ('64, M.S. '69, aerospace engineering)
Mr. Francis J. O'Brimski ('59, aeronautical engineering)
Mr. Mark Bruce Skane ('69, M.S. '72, electrical engineering)
Mr. Donald Walker ('69, mechanical engineering)
Mr. Russell Werneth ('64, M.S. '68, mechanical engineering)
Mr. Maurice White ('69, electrical engineering)
Mr. Edward Louis Wienecke III ('69, mechanical engineering)
Mr. David Hugh Wilson ('64, electrical engineering)
Mr. Stanley R. Zupnik ('59, civil engineering)
Published June 6, 2019