Gaske Named 2012 Distinguished Engineering Alumnus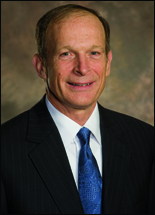 The Clark School has honored T. Paul Gaske (B.S. '76, electrical engineering) with its 2012 Distinguished Engineering Alumnus award for his professional accomplishments and service to the school and UMD. He is executive vice president and general manager for the North American Division at Hughes Networking Systems, LLC, where he focuses on broadband products and services.
Gaske joined Hughes in 1977 and has held a variety of engineering, marketing, and business management positions throughout his career, including vice president of marketing at Hughes' International Satellite Division. His main focus in recent years has been launching broadband satellite services for business, government, and consumer markets.
Gaske is also a member of the Institute of Electrical and Electronics Engineering. He is a published author on satellite networking technologies and markets, and the holder of numerous patents in satellite communications and broadband networking.
Gaske has been a member of the Clark School Board of Visitors since 2010. He supports the Board of Visitors Scholarship, the Clark School General Engineering Scholarship and the Clark School Dean's Fund.
Published April 16, 2012