Engineering Alumnus Featured in Forbes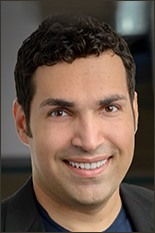 Mechanical Engineering alumnus Alex Mehr (M.E., Ph.D., '03) is featured in the March 3, 2014 issue of Forbes Magazine. Mehr is co-founder of Zoosk, an online romantic social network and dating service. The Forbes article "Up-And-Comers: Entrepreneurs Who Want To Find You Love" features both Mehr and Zoosk co-founder Shayan Zadeh.
Founded in 2007, Zoosk has been called the "Amazon of dating," and has active users in over 70 countries. The Forbes' article highlights Mehr and Zadeh's success with the dating service:
"[Zoosk] uses an algorithm to try to match you with people who have a high probability of responding positively. The 35-year-old Iranian cofounders have computer science backgrounds; Mehr once worked on coding for NASA moon missions. (Says a spokesperson, "You have a rocket scientist finding you love.") Some 25 million people now use the service, which has pulled in $61.6 million in funding."
Mehr grew up in Iran and attended Sharif University of Technology, where he met Zadeh. The two were roommates at the University of Maryland when they developed the idea to create Zoosk. Mehr went on to start Zoosk with Zadeh while attending the M.B.A. program at the University of California, Berkeley. Prior to starting Zoosk, he worked as an engineer for NASA and collaborated on several manned and unmanned space flights.
Published March 12, 2014