ECE Centennial To Feature Dean Kamen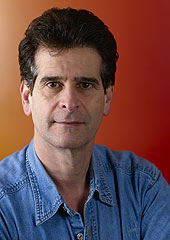 The Department of Electrical and Computer Engineering (ECE) at the University of Maryland's A. James Clark School of Engineering will celebrate its 100th anniversary (1908-2008) with a special Centennial weekend of events on September 26-27, 2008.
The ECE Centennial Weekend will include an alumni reception on the evening of Friday, September 26; a luncheon and pair of daytime forum events featuring experts from across the country speaking about "The Future of Information Systems and Communications" and "The Future of Energy" on Saturday, September 27; and a dinner and gala event on Saturday evening that will include a talk by inventor Dean Kamen.
Dean Kamen is an inventor, entrepreneur, and a tireless advocate for science and technology. He is the founder of DEKA Research & Development Corporation, where he develops internally generated inventions and provides research and development for major corporate clients. He holds more than 440 U.S. and foreign patents for innovative devices that have expanded the frontiers of health care worldwide. Some of his notable inventions include the first wearable insulin pump for diabetics, the HomeChoice™ portable peritoneal dialysis machine, the INDEPENDENCE® IBOT® Mobility System, and the Segway® Human Transporter. One of his newest projects is the development of a revolutionary water purification system that is being designed to help provide clean drinking water to the estimated 1.1 billion of people in the world who lack access to clean water.
Among Mr. Kamen's proudest accomplishments is founding FIRST (For Inspiration and Recognition of Science and Technology), an organization dedicated to motivating the next generation to understand, use, and enjoy science and technology.
Mr. Kamen was awarded the National Medal of Technology in 2000, the Lemelson-MIT Prize in 2002, is a member of the National Academy of Engineers and was inducted into the National Inventors Hall of Fame in May 2005.
The ECE Centennial event is sponsored by Texas Instruments and Booz Allen Hamilton.
Alumni and friends can RSVP for ECE Centennial Weekend events by contacting Ted Knight at teknight@umd.edu. The reception on the evening of Friday, September 26 is complimentary for alumni and friends. Tickets for the daytime luncheon and forum events on Saturday, September 27 are $20/each, and tickets to the ECE Centennial gala event on Saturday evening are $50/each. Online reservations for the Centennial events will be available soon at www.ece.umd.edu/centennial/. For more information, please call 301-405-3596.
Published April 28, 2008