Terps Racing Starts Season Strong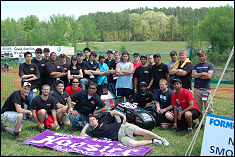 The Clark School's Formula Society of Automotive Engineers (SAE) racing team participated in a 43-team competition at Virginia International Raceway over the weekend. The Clark School team placed in the following categories:
6th overall
1st in acceleration
2nd in skidpad event
2nd in sales presentation
4th in endurance (also posted the second fastest lap time of the day)
5th in design
10th in costing
"With these results, our students demonstrated that they are serious contenders in this highly competitive SAE design competition," said Greg Schultz, the team's advisor and an adjunct associate professor in the Department of Mechanical Engineering. "I was very pleased to see design judges and other corporate representatives make on-the-spot job offers to some of our students during the competition."
The Formula team will compete again in California in mid-June. The Clark School also has a Baja racing team, which will compete in Montreal around the same time.
Students interested in participating on either team can register for ENME 408 or by joining the Terps Racing Club.
Published April 29, 2008