Terps Racing Baja Team Finishes Strong at the Baja SAE Tennessee Tech Competition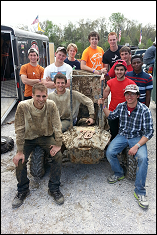 The Terps Racing Baja Team placed 13th overall out of 100 teams in the Baja SAE Tennessee Tech competition which was held April 18 – 21 at Tennessee Tech University in Cookeville, TN.
One hundred schools were registered to participate in this competition. Teams competed in seven different categories including: endurance, suspension and traction, pulling event, land maneuverability, acceleration, design, and cost. In these categories, Maryland placed 28th in endurance, 8th in suspension and traction, 11th in the pulling event, 26th in land maneuverability, 4th in acceleration, tied for 8th in Design, and placed 29th in cost. The overall winner was Cornell University.

Dr. Greg Schultz, the faculty advisor for Terps Racing, praised the students for their accomplishments this year, and has high hopes for the future teams. He points out that 11 of the students who participated in the Maryland team were Freshmen through Juniors and did so on a voluntary club basis competing against teams with primarily seniors and graduate students.
Students interested in participating on either FSAE or Baja SAE can register for ENME408: Selected Topics in Engineering Design or join the Terps Racing Club.

The Baja Vehicle will be on display this Saturday at Maryland Day. Learn more about the Terps Racing website.
Published April 24, 2013