Dean Chang to Direct MTECH Ventures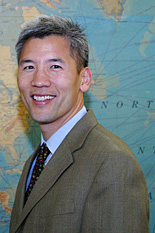 The Maryland Technology Enterprise Institute today announces that Dean Chang has joined the institute as the new director of MTECH Ventures, the University of Maryland's initiative for delivering technology entrepreneurship education and fostering successful technology-based ventures.
Chang previously held the dual roles of chief technology officer and vice president of gaming business at Silicon Valley-based Immersion Corporation, a company he helped guide over ten years from a four-person, venture-backed startup to a $300 million publicly traded technology leader
"Dr. Chang brings an enormous amount of real-life and academic expertise to this position," says Herbert Rabin, director of MTECH. "He has experience in building a university-based startup into a successful industry leader and holds engineering and business degrees from highly regarded institutions. Dr. Chang is well positioned to guide our technology entrepreneurship initiatives to meet the needs of 21st century entrepreneurs."
Chang joined Immersion as one of its first employees to help commercialize technology developed at a Stanford University robotics laboratory where he worked as a graduate student. Chang held executive roles in engineering, marketing, and business development at Immersion. He was instrumental in helping create an entire industry around haptics, the science of simulated touch in human-computer interactions, and driving Immersion's technology into many diverse products, including surgical training simulators, dashboard controls in BMW automobiles, 3D modeling and animation tools, Samsung cell phones, video game systems like the Microsoft Xbox 360 and the Sony PlayStation 2, and many others.
As a general manager at Immersion, Chang was responsible for strategic direction, sales and marketing, and operations of licensing Immersion's vast patent portfolio to the video game industry. In two years, he grew gaming licensing royalties by 83 percent to all-time highs in revenue and net income, while also increasing the company's profit margin. He was part of an executive road show team at Immersion that successfully raised $51 million in an initial public stock offering and $20 million in a private convertible debenture placement.
A Pi Tau Sigma graduate from MIT, Chang holds a B.S. in mechanical engineering from MIT, as well as both M.S. and Ph.D. degrees in mechanical engineering from Stanford University. He also holds an MBA with honors and received the highest distinction of Palmer Scholar from the Wharton School of the University of Pennsylvania.
Chang has written articles for Computer Magazine, BusinessWeek Online, and GameDAILY BIZ. He has spoken at executive, leadership, and press technology forums, and has been quoted or featured in articles in The Wall Street Journal, The Economist, The Washington Post, The New York Times, The International Herald Tribune, PC Magazine, New Scientist, KCBS Radio, CNET Radio, The Discovery Channel, and many other news media organizations. He holds 30 U.S. and international patents in haptics.
As director of MTECH Ventures, Chang leads a portfolio of award-winning and high-impact technology entrepreneurship education and venture creation programs. In the area of venture creation, MTECH Ventures includes the Technology Advancement Program (TAP). As the state's first incubator, TAP has a proven track record of successfully advancing early stage technology ventures in the region, including the publicly traded companies Martek Biosciences and Digene Corporation. TAP offers unique and unmatched resources, including state-of-the-art facilities, access to technical talent, access to capital, and extensive startup expertise. TAP's companies have raised over $750 million in venture investments, grants, public stock offerings, and proceeds from the sale of companies since the program's launch in 1985.
VentureAccelerator (VA), MTECH Ventures' newest venture creation program, inspires and empowers faculty and students at the university to commercialize their innovative technology inventions. VA offers intense, hands-on mentoring from successful professionals with direct experience in venture formation and assists with activities such as market validation, business planning, recruitment, and initial funding.
MTECH Ventures' entrepreneurship education mission is to create entrepreneurial technologists. The program's activities include entrepreneurship courses at every level, from high school through graduate school. The award-winning Hinman CEOs Program, the nation's first living-learning entrepreneurship initiative for undergraduates, has spawned ventures such as Squarespace, one of the top-five blogging platforms on the Internet. The University of Maryland Technology Start-Up Boot Camp, the University of Maryland $50K Business Plan Competition and the newly launched Hillman Entrepreneurs Program are also part of MTECH Ventures.
"The types of innovations that spur new industries, create new jobs, and bring about major advances to society aren't going to come from big companies," Chang explained. "More and more, they're coming from universities, and there's still so much potential on campuses that has yet to be unlocked. MTECH Ventures is helping to create a culture that instills in students a mentality of constantly assessing what they are doing, thinking imaginatively and resourcefully about new opportunities, and finding the passion and conviction to realize those ideas. Those innovations are the kinds that will help the U.S. maintain its leadership position in both technology advancement and economic prosperity."
Published June 12, 2007