Clark School Names Zhao, Chopra as Clark Distinguished Chairs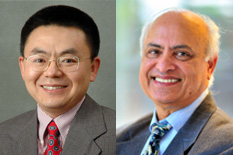 The A. James Clark School of Engineering at the University of Maryland named two faculty members as Clark Distinguished Chairs, a distinction established as part of Building Together: An Investment for Maryland, the A. James & Alice B. Clark Foundation's nearly $220 million commitment to transform UMD and the Clark School through investments in students, faculty, programs, and infrastructure.
Ji-Cheng "JC" Zhao, chair of the Department of Materials Science and Engineering

Inderjit Chopra, director of the Alfred Gessow Rotorcraft Center and professor of aerospace engineering
Zhao and Chopra started their tenure as Clark Distinguished Chairs on July 1, 2023.
Clark Distinguished Chairs directly address critical research areas such as additive and advanced manufacturing, autonomy and robotics, and energy and sustainability. These faculty leaders open new frontiers, creating a community of collaboration and excellence that gains momentum with every achievement in research and innovation. The Clark School previously named Deb Niemeier, director of the Center for Disaster Resilience and professor of civil and environmental engineering, as its inaugural Clark Distinguished Chair.
"We challenge our faculty to lead, creating technologies that impact society and improve the world around us. JC and Inderjit have decades of experience innovating in this way, and we are enthusiastic about the inspiration they will offer and knowledge they will share in their new roles," said Samuel Graham, Jr., dean of the Clark School. "We are very appreciative of the Clark Foundation's continued support for outstanding faculty who are internationally known in their field. We are excited to have such faculty as leaders in the Clark School."
Zhao is a pioneer in the development of accelerated methodologies for discovery and rapid screening for metals, and a renowned expert on computational design of materials. He has made outstanding contributions to basic and applied research in metals and their deployment in critical applications in energy infrastructure. He is a Fellow of ASM International, the Materials Research Society, the National Academy of Inventors, and the Minerals, Metals and Materials Society. Zhao is also an inventor on 49 issued U.S. patents and has experience in industry (12 years at GE), government (four years at ARPA-E), and academia (both UMD and Ohio State).
"I am wholeheartedly grateful to Dean Graham, UMD leadership, and the A. James & Alice B. Clark Foundation for this wonderful appointment, which is a great honor for me," said Zhao. "The incredible generosity of the Clark Foundation in supporting engineering education and research inspires me to perform impactful research with students and researchers to help overcome grand challenges facing our society. I am very excited at the prospect of this generous endowment fund to enable new research explorations and new innovations in years to come."
Chopra has worked on various fundamental problems related to aeromechanics of helicopters, including advanced designs, aeroelastic stability, active vibration control, composite blades, smart structures, micro air vehicles and delivery drones, and comprehensive analysis. Among his VTOL (vertical take-off and landing) innovative designs are a world-record holder human-powered helicopter, cyclocopter, da Vinci aerial-screw, MARS helicopter, solar-powered helicopter, and quad-biplane. Chopra is a Fellow of the American Institute of Aeronautics and Astronautics, VFS (the Vertical Flight Society, formerly the AHS/American Helicopter Society), and the American Society of Mechanical Engineers, and an Honorary Fellow of AHS.
"I am deeply appreciative of Dean Graham, campus leadership, and the Clark Foundation for this honor," said Chopra. "This generous endowment support will enormously impact the training of next-generation rotary-wing engineers and enable me to pursue milestone vertical take-off and landing (VTOL) designs."
In 2023, both Zhao and Chopra were elected to the National Academy of Engineering, and Zhao was also elected to the American Association for the Advancement of Science.
Published July 7, 2023