Cementing His Legacy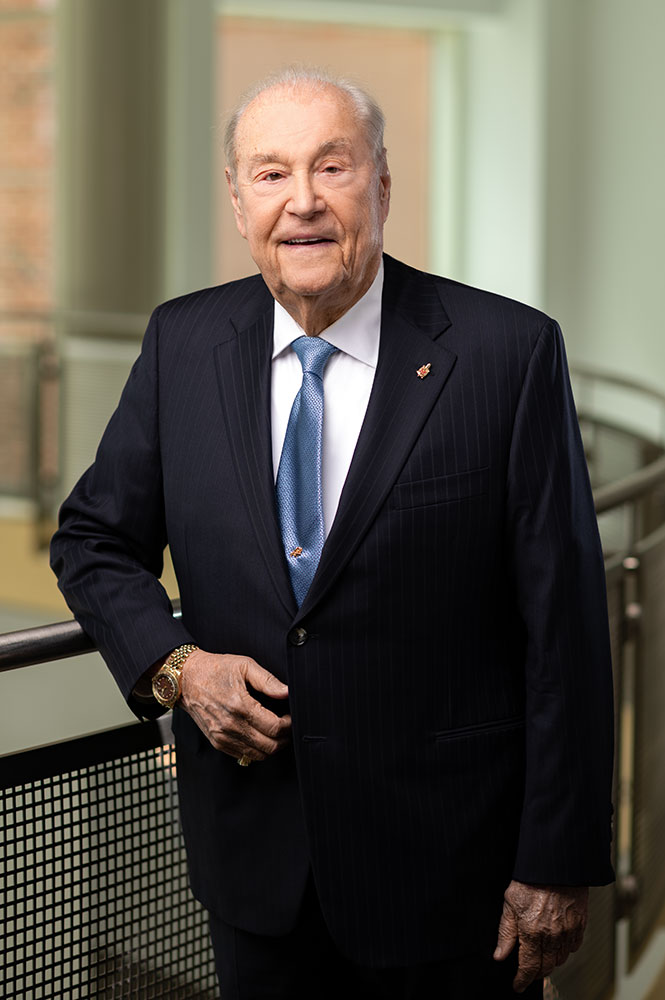 Stanley R. Zupnik ('59) knew from a young age he wanted to be a builder and real estate developer. The Washington, D.C., native began nurturing his entrepreneurial mindset while still in high school (he had a photography business taking photos at weddings, bar mitzvahs, and proms and, later, a TV repair and hi-fi installation business). The summer before college, Zupnik worked on construction sites and learned all he could from his "street-smart" grandfathers, both of whom invested in real estate. Zupnik recalls one grandfather's lesson on risk: "When investing, don't tell me how much you could make. Tell me how much you can afford to lose."
For Zupnik, the first in his family to attend college and earn a bachelor's degree, a Maryland Engineering education was a low-risk/high-reward investment that would give him an edge in the industry—and in life. A civil engineering major, Zupnik started his education having already worked as an engineer on job sites. But he knew those skills could take him only so far: "The knowledge and discipline I gained at Maryland were unbelievable, because they taught me how to think," says Zupnik. "I've benefited from other people's hard work and knowledge—now I take the opportunity to give back."
To help position the next generation of engineers to build a smarter future for the good of all, the real estate mogul who never forgot the impact of his Maryland Engineering education made a $25 million naming gift toward the state-of-the-art, 157,000-square-foot Stanley R. Zupnik Hall. UMD's newest facility for research, innovation, entrepreneurship, and education—which breaks ground in November 2022—will foster collaboration between a number of engineering disciplines.
The lessons Zupnik learned, both from his grandfathers and as a UMD student, stuck. After graduating, he went to work in the construction industry as one of a few builders he knew with the advantage of an engineering degree. Industry leaders were his mentors for how to build houses, then midrise and hi-rise apartment buildings and office buildings, and how to apply new innovations such as post-tensioning and high-strength, 60 psi billet-steel rebars. In 1964, Zupnik launched his own construction firm, Majestic Builders, which quickly became among the greater Washington, D.C., region's top residential construction management and general contracting firms; Majestic was also among the first firms to use IBM System/36 computers for project management and scheduling. "Engineers," Zupnik explains, "think at least five years ahead."
Stanley R. Zupnik Hall
Still hard at work, today Zupnik is a mentor to his six grandchildren. During the pandemic, he began holding lessons in investing over Zoom; he has covered dividends, price-to-earnings ratio, and growth stocks. Some of his lessons harken back to his own childhood ("pennies make nickels, nickels make dimes, and dimes make dollars").
For the proud alum and longtime UMD supporter (his philanthropic legacy includes the Stanley R. Zupnik Fellowship Fund for graduate students, the Stanley R. Zupnik Endowed Scholarship for undergraduate civil engineering students, and the naming of Stanley R. Zupnik Lecture Hall and the Stanley R. Zupnik '59 Forum), giving back to Maryland is an investment in the future. He compares philanthropy to a building project: "When you build, the space is never used in just the way you think it's going to be used. The same goes for students.
"We need young people with vision—you never know what problems these engineers will solve."
This story first appeared in the Fall 2022 issue of Engineering at Maryland magazine.
Published November 7, 2022