Celebrating Women Engineers: Patrice Gregory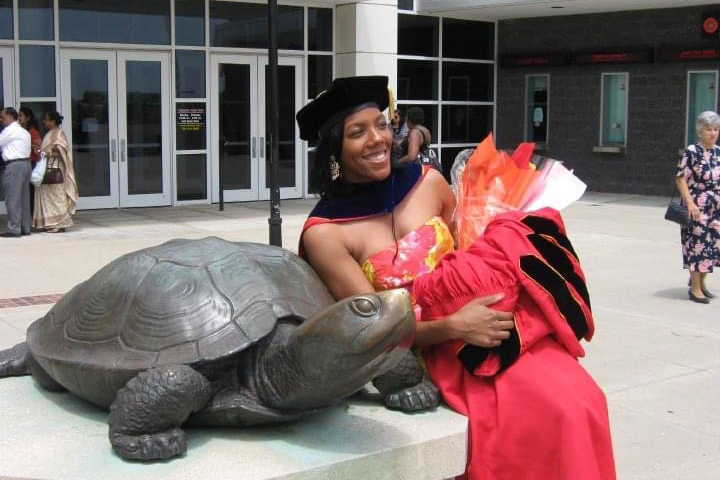 In celebration of Women's History Month, the Department of Mechanical Engineering is highlighting some of our talented and diverse alumni through vignettes sharing their life experiences, career paths, and advice for aspiring mechanical engineers.
Patrice Gregory (Ph.D., '10) grew up in Pine Bluff, Arkansas with a teacher mom and a businessman dad. As a child, she had no idea what engineers did, but she had an aptitude for math and science and a penchant for questioning the why of things. The decisive moment came in high school, however, when she was accepted into the NASA Sharp Plus program and spent a summer working with traffic engineers at the San Francisco Municipal Transportation Agency.
She then earned a B.S. in mathematics from Spelman College and was accepted into the engineering school at the Georgia Institute of Technology, winning many academic awards and scholarships, including a NASA Women in Science and Engineering (WISE) scholarship. She spent three summers interning with the Rotorcraft Division at NASA Ames, where she assisted a research team with wind tunnel tests designed to troubleshoot issues with the V022 Osprey. After graduating from Georgia Tech, she enrolled in graduate school at the University of Maryland, earning a M.S. and Ph.D. in mechanical engineering. Her research, conducted at the Center for Advanced Life Cycle Engineering (CALCE), focused on the failure of electronic components during mechanical loading.
A visit to the Lockheed Martin booth at a Black Engineer of the Year Awards (BEYA) STEM Conference led Patrice to a career at Sandia National Laboratories, where she has worked for almost 10 years. She is currently a Principal R&D Systems Engineer at Sandia's System and Component Surety Organization in Kansas City, MO, where she leads the qualification activities for multiple electrical and mechanical components.
Patrice is active outside of work. She is a Kansas City Mammogram Popup Event volunteer, Glenview Elementary STEAM (Science, Technology, Engineering, Art, and Math) Night volunteer, Sisters in Science Symposium mentor and volunteer, Hands-on Minds-on Technology instructor and teaching assistant, Emerging Researcher National (ERN) Conference mentor and judge, and National Society of Black Engineers (NSBE) PCI (Pre-College Initiative) tutor. She also enjoys spending time with friends and family and traveling.
Where/how did you get started on your mechanical engineering journey?
I've always been a tinkerer and intrigued by how things work and move.
Who/what inspires you?
The constant evolution of the technology sector and my peers inspires me. It's amazing to see the great things that others are doing and achieving. It inspires me to step out and try things that are outside of my comfort zone.
What has helped you to succeed in your overall personal and professional journey?
Perseverance, preparation, and the understanding that when you try new things, you have to step out on faith.
What advice would you offer to current students?
Trust yourself and your abilities, but it's okay to not know something and ask questions to seek understanding.
Published March 2, 2023