Celebrating Women in Aerospace Engineering: Alison Flatau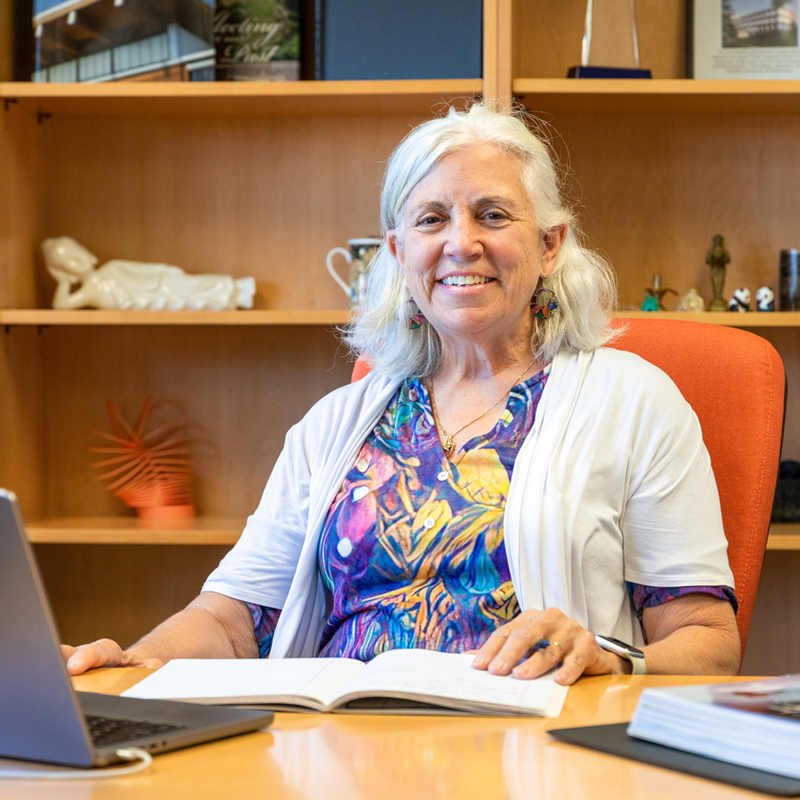 In celebration of Women's History Month, the Department of Aerospace Engineering is highlighting some of our talented and diverse alumni and faculty through a series of stories, and Q&As, sharing their journeys and their advice for aspiring aerospace engineers.
Alison Flatau is currently the department chair for the University of Maryland's (UMD) Department of Aerospace Engineering. She received her undergraduate degree in chemical engineering from the University of Connecticut, and both her M.S. and Ph.D. degrees in mechanical engineering from the University of Utah.
She taught engineering mechanics at Iowa State University for eight years prior to joining the University Maryland's Department of Aerospace Engineering in 2002, and she served as the program director for the Dynamic Systems Modeling, Sensing, and Control Program at the National Science Foundation.
At Maryland, she was the associate dean of research for the Clark School of Engineering from 2009 to2015 and the Department of Aerospace Engineering's graduate program director from 2016 to 2021.
Her teaching and research interests are in the areas of smart materials and structures, with emphasis on magnetostrictive actuator and sensor technologies, from the nano- to the macro-scale. Her experience includes four years at the National Small Wind Systems Test Center (now the National Renewable Energy Laboratory) in Golden, Colorado, where she was a senior research engineer in the Wind Energy Conversion Systems Test Program.
Where/How did you get started on your Aerospace Engineering journey?
My journey to Aerospace Engineering started with my natural interests in finding solutions to challenging problems through my favorite school subjects: my science classes.
In high school, I was fortunate to be part of an outreach program which brought me in contact with the field of engineering and all its possibilities. Thinking that I could help "save the planet," I applied to the University of Connecticut to study environmental engineering. I earned an undergraduate degree in chemical engineering. My undergraduate projects included alternative energy sources such as solar hot water heating as well as wind energy projects.
After earning my B.S. degree, I was given a great opportunity to become a Test Engineer at the National Small Wind Systems Test Site (now part of NREL). This is where I first got truly excited about becoming an aerospace engineer. (Flatau pictured at right during her Test Engineer days).
Who/What inspires you?
My greatest inspiration has always come from our students and the never-ending variety of careers and job opportunities they pursue. Our faculty and staff inspire me too. We have an outstanding team.
What has helped you succeed in your Aero journey?
Being really interested in and excited about the projects I've worked on and enjoying the people with whom I have worked.
What advice would you offer current students?
Be open to unexpected opportunities. Travel, and see the world. Foster creativity (e.g., through the arts, music, reading, languages, sports, etc.).
Creative, high impact engineering is almost always a team endeavor. Be a good listener.
What have been some of your greatest personal/professional successes?
I'm especially proud of having been a Distinguished Lecturer for the Institute of Electrical and Electronics Engineers (IEEE), which gave me the opportunity to give presentations worldwide on the smart materials research my students and I worked on.
Published March 10, 2023