Bhattacharyya Co-Authors New Book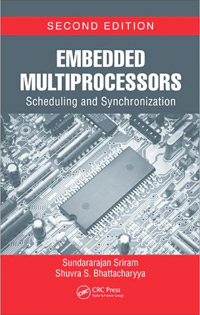 ECE Professor
Shuvra Bhattacharyya
is the co-author of
Embedded Multiprocessors: Scheduling and Synchronization
, a second-edition book recently published by CRC Press. The book was co-authored by
Sundararajan Sriram
of Texas Instruments.
Signal processing is embedded in a variety of consumer devices, including cell phones and digital television, as well as in communication infrastructure, such as media servers and cellular base stations. Multiple programmable processors, along with custom hardware running in parallel, are required for such applications. The second edition of Embedded Multiprocessors: Scheduling and Synchronization presents architectures and design methodologies for parallel systems in embedded digital signal processing (DSP) applications. The book discusses application modeling techniques for multimedia systems, new research on dataflow models for signal processing, optimization of interprocessor communication and synchronization in embedded multiprocessor systems, and a modeling methodology for multiprocessor system performance analysis. The book provides a systematic approach to problems that engineers previously have been able to tackle only in an ad hoc manner.
For more information, and to order the book, visit the CRC Press website at: http://www.crcpress.com/product/isbn/9781420048018.
Published February 4, 2010