BGSS Hosts Virtual "Research and Pajamas" Events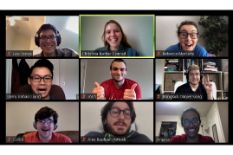 The Bioengineering Graduate Student Society (BGSS) has transformed its bi-weekly in person "Research and Pizza" event to a virtual, at-home alternative – "Research and Pajamas."
The events have traditionally given graduate students the opportunity to present their research and receive feedback from peers. BGSS also hosts alumni question & answer sessions, as well as discussion panels on dissertations, proposals, research and aptitude exams. Amidst the COVID-19 pandemic, the group sought ways to continue their efforts while students stay at home.
"When we started the transition to working from home, we wanted to keep connected with our fellow graduate students," says Fischell Department of Bioengineering (BIOE) Ph.D. student and BGSS President Christina Conrad. "Adapting to this 'new normal' can be somewhat challenging to stay motivated. Providing a time to present research helps break up the day, which is now filled with literature reviews and writing for most of us. It's been exciting to see other Ph.D. students online, and maintain a sense of community during this difficult time."
Thus far, "Research and Pajamas" attendees have heard two presentations: "Transcription Cycling Amplification: A Novel Isothermal Amplification Method to Detect miRNA" (Micaela Everitt, Amplified Molecular Sensors Lab) and "After Grad School: Life of Non-University Academia" (Leopolodo Torres, Class of 2019). Rebecca Moriarty (Cell and Microenvironment Engineering Lab) is scheduled to present on Wednesday, April 15.
These virtual events are open to all BIOE graduate students.
Barry Liang is the BGSS representative for the incoming Ph.D. class of 2017. He is in charge of facilitating BGSS RAP ("Research and Pizza" turned "Research and Pajamas") events.
"RAP has been a fun event that we organize to showcase what the graduate students are doing in each lab," says Liang. "I really enjoy hosting and organizing these events. I think RAP connects the graduate student body because sometimes, we don't know what specific research is being conducted within the department. RAP serves as a platform for students to present and get feedback for their research. In addition to research, we are also encouraging people to present on science topics that they are passionate about that is outside of lab. This has been a great event for students to stay connected and stay positive during this time of uncertainty."
More information about "Research and Pajamas" and other graduate student events are available on the BGSS website. The group is seeking presenters for upcoming events.
Published April 13, 2020