Anisimov Elected to Russian Academies of Engineering and Natural Sciences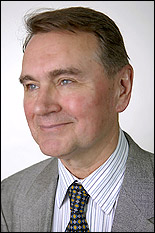 University of Maryland Professor of Chemical and Biomolecular Engineering Mikhail Anisimov has been elected as a foreign member of both the Russian Academy of Engineering and the Russian Academy of Natural Sciences.

The Russian Academy of Natural Sciences is one of academia's largest and most authoritative organizations that supports education and applied scientific research. The Russian Academy of Engineering is a public academy of sciences, which unites leading Russian and foreign scientists, engineers, scientific-research organizations, higher educational institutions and enterprises.

"This is an incredible achievement, and I am very pleased to congratulate Mikhail on this honor and recognition," said Dean of the Clark School of Engineering, Dr. Darryll Pines.

Prof. Anisimov is also a Member of the New York Academy of Sciences and a Fellow of the American Physical Society (APS), the American Academy of Arts and Sciences (AAAS), the International Academy of Refrigeration, and the Newtonian Society. He earned his D.Sc. in Molecular and Thermal Physics at the Kurchatov Institute of Atomic Energy, Russia; his Ph.D. in Physical Chemistry and Chemical Physics at Moscow State University, and his Engineer Diploma cum laude at the Grozny Petroleum Institute, Russia.

"It gives me great pleasure to congratulate Mikhail on this most significant distinction," said Keystone Professor and Chair of the Chemical and Biomolecular Engineering Department, Dr. Sheryl Ehrman.

In addition to his appointment in the Clark School, Prof. Anisimov has a joint appointment in the Institute for Physical Science and Technology, a research institute within the College of Computer, Mathematics and Physical Sciences. His research interests include mesoscopic and nanoscale thermodynamics, critical phenomena, and phase transitions in soft matter.


Published March 31, 2013