Aerospace Students Recognized as "Tomorrow's Technology Leaders"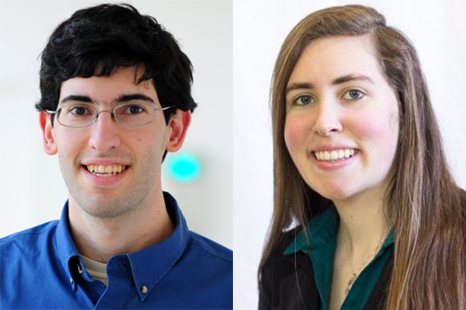 Two engineering students at the University of Maryland—Matthew Marcus and Rosemary Davidson—have been named "Tomorrow's Technology Leaders: The 20 Twenties" by The Aviation Week Network in collaboration with The American Institute of Aeronautics and Astronautics (AIAA). The awards program recognizes top students in engineering, math, science, and technology from across the country and globe and connects the next generation of aerospace and defense talent with established leaders in the fields.
Matthew Marcus (M.S. '15, B.S. '13), a Ph.D. student in the Clark School's Department of Aerospace Engineering, conducts his doctoral research on satellite design optimization and the removal of space debris from low Earth orbit UMD's Space Power and Propulsion Laboratory, under the advisement of Associate Professor Raymond Sedwick. He initially joined the lab as an undergraduate student as part of the Clark School's Aerospace Honors Program, performing research on superconducting wireless power transfer. Matthew is an aerospace engineer at NASA's Goddard Space Flight Center, a student research affiliate for the Clark School's Center for Orbital Debris Education and Research, a National Science Foundation Graduate Research Fellow, and a 2016 recipient of the Society of Satellite Professionals International Innovation Award.
Rosemary Davidson is a senior undergraduate student in the Clark School's Aerospace Honors Program. She works with Assistant Research Scientist Robert Michell (Department of Astronomy) and NASA Research Astrophysicist Marilia Samara on the design of an attitude control system for a CubeSat—a type of miniaturized satellite for space research—proposal within the heliophysics branch at NASA's Goddard Space Flight Center. Rosemary is president of Women in Aeronautics and Astronautics, vice president of the aerospace engineering honor society Sigma Gamma Tau, and a member of both the engineering honor society Tau Beta Pi and the Women in Engineering program. After graduating this spring, she hopes to attend graduate school this fall for a master's degree and Ph.D., focusing on spacecraft formation flying.
Since The Aviation Week Network first launched the "20 Twenties" program in 2013, the organization has recognized 12 UMD students and alumni as 20 Twenties. This year's winners will be honored during Aviation Week's 61st Annual Laureates Awards March 1 at the National Building Museum in Washington, DC.
Published January 24, 2018