A "Changing of the Deans"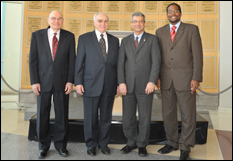 Faculty and staff of the Clark School gathered at the Jeong H. Kim Engineering Building to formally thank Herbert Rabin, two-time interim dean of the Clark School, for his service, and to welcome Dean Darryll Pines as the school's new leader.
About 150 attendees listened to Provost Nariman Farvardin (former dean of the Clark School) and Fischell Department of Bioengineering Chair William Bentley thank Rabin and Pines for their respective dedication to the school. Rabin and Pines each made brief remarks about the history and future path of the school.
Among the attendees were members of the Clark School Board of Visitors and deans from other colleges on campus. George Dieter, yet another former Clark School dean, also attended and was recognized for his contributions to the school's accomplishments.
Published February 12, 2009