Weinstein Selected as 2015-2016 Philip Merrill Presidential Scholar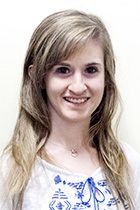 Rosie Weinstein, senior in the Department of Aerospace Engineering, has been named a Phillip Merrill Presidential Scholar. She is one of three Clark School students to receive the honor this year. The program honors seniors from various departments across the University of Maryland (UMD), and the university faculty and K-12 teachers who have contributed to their success.
Weinstein is one of 25 students university-wide highlighted for their accomplishments. The Philip Merrill Program aims to build a community of scholars who understand and celebrate the importance of teaching and guiding the next generation. As part of the program's emphasis on mentorship, it awards a scholarship in honor of each named K-12 teacher to a new first year student from the teacher's high school or school district.
In her website profile, Weinstein named Mrs. Faige Kramer from Bais Yaakov High School in Baltimore, Md., and Department of Aerospace Engineering Samuel P. Langley Distinguished Professor James Hubbard at UMD as integral to her success and growth, both academically and individually. She wrote of her university faculty mentor, "Prof. Hubbard taught me to go above and beyond as a student, and provides an exemplary model himself as a mentor."
The program will host a luncheon on Friday, November 13, 2015 at 11:30am to honor these successful students and their mentors. Following the luncheon will be a workshop focused on collaboration and the importance of teaching and mentorship.
Published October 20, 2015