Weiner Wins 2014 Amelia Earhart Fellowship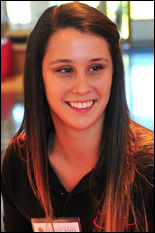 Aerospace engineering graduate student Elizabeth Weiner was awarded the 2014 Amelia Earhart Fellowship from Zontia International. Zonta International is a global organization of executives and professionals working to advance the status of women worldwide through service and advocacy, and the organization awards only 35 fellowships worldwide annually.
As a student, Weiner has been extremely active in the Department of Aerospace Engineering. As a member of Team Gamera—the human-powered helicopter project—she performed research, supported test flights and mentored younger team members. In 2014, she led the department's Student Design Team and helped win first place in the graduate division of the American Helicopter Society International's 30th Annual Student Design Competition. The team's HeliX rotorcraft design featured variable diameter tiltrotor and outboard wing extensions (OWEs).
Weiner is currently focusing on research to improve speed capabilities in rotorcraft as a means to improve flight time for emergency medical and trauma flights. According to Weiner, rotorcraft are extremely well suited to medical transport tasks due to their vertical take-off and landing capabilities (VTOL)—making rotorcraft speed one of the key factors in saving a life.
In particular, she is evaluating advances in materials engineering—such as composite tailoring—that could lead to dramatic innovations in highly loaded aerospace structures, such as rotorcraft blades in high-speed flight. She is also looking into the little explored area of shape-shifting rotors. Shape-shifting rotors capable of changing their geometric characteristics, such as twist or chord length, mid-flight, could increase rotor efficiencies, and in turn allow for faster, more efficient vehicles. Faster, more efficient aircraft could make a huge impact on the number of lives saved by VTOL vehicles.
After graduation, Weiner aims to join the helicopter industry and use her research in the development of future VTOL aircraft. She also wants to continue acting as a mentor to young women looking to pursue careers and education in STEM fields. Weiner said that the most rewarding part of her involvement with Team Gamera was the work she was able to do with young engineers, exciting them to pursue a degree in an engineering field and encouraging them to question and innovate.
The Amelia Earhart Fellowship was established in 1938 in honor of famed pilot and Zontian, Amelia Earhart and is awarded annually to women pursuing advanced studies in aerospace-related sciences or aerospace-related engineering. The Amelia Earhart Fellowship program helps talented women achieve their educational goals by enabling them to invest in state-of-the-art computers to conduct their research, purchase expensive books and resource materials and participate in specialized studies around the globe. Amelia Earhart Fellows have gone on to become astronauts, aerospace engineers, astronomers, professors, geologists, business owners, heads of companies and even Secretary of the U.S. Air Force.
For more information on the Amelia Earhart Fellowship and Zontia International, visit their website.
Check out what's going on in Aerospace Engineering by following us on Facebook.
***
Published April 9, 2014