Wallace Wins Kirwan Award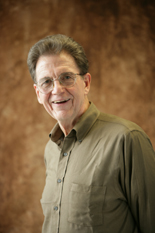 Professor of Mechanical Engineering James Wallace has been selected to receive the Kirwan Undergraduate Education Award, one of two annual prizes established by former University of Maryland President William E. Kirwan and Patricia H. Kirwan. The Kirwan Undergraduate Education Award recognizes faculty or staff who have made exceptional contributions to the quality of undergraduate education at the university.
Wallace is recognized for his 30-year career of extraordinary dedication to undergraduate teaching and the leading role he played in launching three major University initiatives: the CORE Program, College Park Scholars, and Gemstone, which have enriched the lives of countless Maryland undergraduates and will continue to do so.
Last year Wallace was named the 2005 Maryland Professor of the Year by The Carnegie Foundation for the Advancement of Teaching and the Council for Advancement and Support of Education (CASE).
Professor Wallace's award will be presented at the Fall 2006 Campus Convocation on September 26 at 3pm in the Memorial Chapel.
Published May 1, 2006