Waks Receives DARPA Young Faculty Award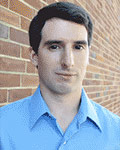 ECE Assistant Professor Edo Waks was selected by the Defense Advanced Research Projects Agency (DARPA) to receive a Young Faculty Award (YFA) in recognition of his status as a rising star in university nanophotonics and quantum information research. DARPA, in conjunction with the Navy, will provide Waks with a grant of approximately $300,000 to further develop his research.
Waks received the funding for his research proposal titled "Ultra-Fast Quantum Information Processing Using Quantum Dot Spin Coupled to Photonic Crystals." Waks's research interests include studying the application of photonic crystals to quantum information processing, as well as the use of photonic crystals for practical tools in optical telecommunication and sensing.
DARPA's Young Faculty Award program, sponsored by DARPA's Microsystems Technology Office, is designed to seek out ideas from non-tenured faculty in order to identify the next generation of researchers working in microsystems technology. The selected researchers focus on concepts that are innovative, speculative, and high-risk.
DARPA programs include basic science research performed on university and industry campuses and at research laboratories. This research may ultimately significantly advance a technology or application that is critical to national security. The long-term goal of the YFA program is to develop the next generation of academic scientists, engineers and mathematicians in key disciplines who will focus a significant portion of their career on Department of Defense and national security issues.
For more information about the DARPA Young Faculty Award program, visit: http://www.darpa.mil/body/news/current/yfa.pdf.
Published July 5, 2011