Up, up and Away, Professor Mary Bowden Launches Student Success through the Balloon Payload Program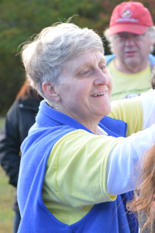 Generations of women have contributed to engineering, and Clark School women are proud to be part of that tradition. In honor of women's history month, the Clark School is celebrating one female engineering faculty member each day. Read about today's featured faculty member, Mary Bowden.
Inspiring the next generation of aerospace engineers is at the heart of what makes Professor Mary Bowden tick, and through the high-altitude balloon payload program funded by the Maryland Space Grant Consortium(MSGC), Bowden has mentored and inspired students statewide to complete more than 50 successful balloon launches and flights since 2003.
The program aims to provide students easy access to "near-space" through the use of weather balloons to lift small payloads to the edge of the atmosphere (85,000-100,000 ft. altitude), and every fall Bowden engages more than 30 aerospace engineering freshman to undertake a balloon payload project.
Bowden joined the University of Maryland in 1996 as a part-time instructor, and quickly established herself as a champion of education and as an excellent researcher. She is affiliated with the Space Systems Lab and continues her research in space assembly, deployable structures and, of course, high-altitude ballooning.
"[The balloon payload program] has served as a source for many students who went on to accomplish significant things in STEM fields. Professor Mary Bowden is especially to be commended on her dedication, and her ability to engage and inspire her students."
Maryland is one of only a small number of universities nationwide to successfully launch and track so many balloons, and Bowden has been heading up the program at Maryland since it began. She has organized and attended every launch to date, but she credits the students with fueling the program's momentum at Maryland.
"We have the most fantastic students," explained Bowden. "They are so creative and dedicated, and they provide continuation for the projects by training the next class of students coming on board."
She has inspired hundreds of college and high school students to undertake high-altitude ballooning and is an inspiration to both students and colleagues alike for her selfless devotion to the aerospace engineering profession, and in particular, high-altitude ballooning.
In 2016, Women in Aerospace (WIA) recognized Bowden for her exceptional work by naming her the recipient of their 2016 Aerospace Educator Award. They cited Bowden for her efforts in motivating interest in space systems, being an inspiring role model and promoting the success of students at all levels.
Published February 27, 2017