UMD's Team Mulciber Places First in Emissions in Wood Stove Decathlon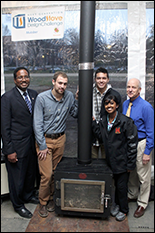 Team Mulciber, a group of students from the University of Maryland, competed as one of twelve finalists in the inaugural Alliance for Green Heat Wood Stove Decathlon November 15 - 19, 2013, on the National Mall in Washington, D.C. They were the only university team to compete in the finals and went up against teams from six different countries. Mulciber won first place in the "Particulate Matter Emissions" category, and their wood stove design has been featured by Popular Mechanics and National Geographic.
Through the competition and design process, the members of Team Mulciber gained invaluable experience and knowledge that they are excited to use in their future careers and academic endeavors. "Just coming here and looking at all the competitors was amazing," said team captain Taylor Myers ('12; M.S. '13, Fire Protection Engineering). "I learned a ton from absolutely everybody here, and I can't wait to go back and apply it."
The Alliance for Green Heat plans to host the Wood Stove Decathlon again in two years.
Click here to view the full results of the Alliance for Green Heat Wood Stove Decathlon.
Click here to watch a video recap of the Decathlon by National Geographic that features Team Mulciber.
Published November 22, 2013