UMD, JHU Team up for 3rd Annual Undergraduate Research Day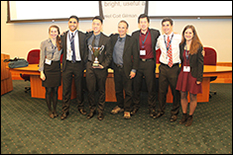 Undergraduates from the A. James Clark School of Engineering's Fischell Department of Bioengineering (UMD BioE) and Johns Hopkins University's Department of Biomedical Engineering (JHU BME) joined forces to host the third annual UMD-JHU Undergraduate Research Fair on March 27.
Showcasing the impact and quality of undergraduate research, the event was held this year at Hodson Hall on the Johns Hopkins University Homewood Campus in Baltimore, Md. Guest speakers included Dr. Jordan Green, JHU Biomedical Engineering Society (BMES) Faculty Advisor, and Dr. Elliot McVeigh, JHU BME Department Director.
Originally slated for March 6, the event's postponement due to a late-season winter storm hardly slowed student turnout. Following the success of last year's event, held on UMD's campus in College Park, Md., the two universities' student chapters of BMES coordinated this year's event under the leadership of chapter presidents Anvesh Annadanam (JHU) and Winston Liu (UMD). In addition to students from UMD and JHU, a contingent of University of Delaware students took part in the event, and several entered abstracts and posters into the competition.
"I look forward to the UMD-JHU Undergraduate Research Day every year because it gives students the opportunity to not only share their research with a panel of distinguished judges, but to also learn about the research that some of their peers are undertaking both at UMD and nearby schools," Liu said.
Thirty-three posters were exhibited and seven authors among those were selected to deliver oral presentations. A panel of judges recognized the top oral presentations, while attendees had the opportunity to vote for their favorite poster.
This year's winners were:
Rebecca Stevick (UMD BioE), who took 3rd Place for her presentation, "Measuring Cell Traction Forces in Simulated Microgravity."
Brian Heligman (UMD BioE), who took 2nd Place for his presentation, "Point-of-Care Biosensors for Hyperammonemia and Aminoacidopathies."
Andrw Tsai (JHU BME), who took 1st Place for his presentation, "Tunable Electrospun Antimicrobial Coatings for Orthopedic Implants."
Bretta Fylestra (University of Delaware BME), who won the Best Poster Award for her poster titled, "A Model to Customize AFO Footplates to Preserve Shank Progression with Limited Ankle Dorsiflexion."
This year's honorable mentions were:
Arjun Adapa (UMD BioE), who was recognized for his presentation, "Harnessing Nanotechnology to Design Liposomes to Combat Autoimmunity"
Alexandra Berges and Alianna Sanzi (JHU BME), who were recognized for their presentation, "Understanding Neurodegenerative Illnesses through Improved Biomarker Discovery in Huntington's Disease."
Tony Wang (JHU BME), who was recognized for his presentation, "Extracellular-Matrix Nanoparticles: A Novel Biomaterial for Cell Signal Modulation."

This year's event was made possible by sponsorship from the JHU Engineering World health.
In addition to Annadanam and Liu, the event's organizers included JHU BMES Board Members Haley Huang, Alex Diehl, Sarah Daggett, Wesley Chan, Peter Yao, Saranga Arora, Adarsha Malla, Alianna Sanzi, Yunchan (Amy) Chen, Dylan Hirsch, Eric Chiang, Arnav Malhotra, Anshul Subramanya, and Dani Kiyasseh.
View the photo gallery online.
Published April 17, 2015